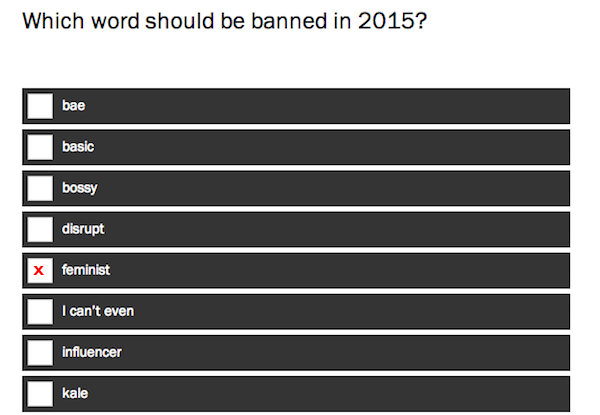 What kind of bossy, kale-eating basic bitch would want to ban "feminist"? (via)
TIME Magazine held their fourth annual word banishment poll today, and for some reason, one of the words they think may need to go is "feminist." In previous years, voters banned OMG, YOLO, and twerk, all of which fit the bill for annoying Internet-y phrases that might otherwise destroy the English language. But "feminist"?
Katy Steinmetz, the woman who wrote the TIME article, explains her reasons for including it: 

Makes perfect sense. You don't have anything against feminism, you just don't ever want to hear anyone say "feminist" ever again. This is actually how I feel about kale, another word on the list. But feminism being an ever-so-slightly larger part of the national conversation this year doesn't seem like the same thing as a bunch of people on Instagram overusing the word "bae." Also, for some reason, Steinmetz links out in her explanation to this article, which decries the fact that female celebrities misunderstand the term "feminism" and refuse to call themselves feminists. 
Naturally, feminists on Twitter were pissed off. (The feminists, they don't do well with being told to shut up, Katy.)
.@katysteinmetz Inclusion of "feminist" on your list of should-be-banned words in indefensible and gross.

— Rebecca Schinsky (@RebeccaSchinsky) November 12, 2014
TIME thinks the word "feminist" should be banned? We think reductive attacks on feminism should be banned. #justsayin http://t.co/3pJMAs4SyD

— Planned Parenthood (@PPact) November 12, 2014
.@katiesteinmetz thanks for including "feminist" in yr @Time poll of words we should ban in 2015. Misogynist trolls needed another platform!

— Caissie St.Onge (@Caissie) November 12, 2014
Those "misogynist trolls" @Caissie is talking about are coming from 4Chan in droves to vote for the word "feminist."
As of right now, "feminist" is winning with 47% of the vote: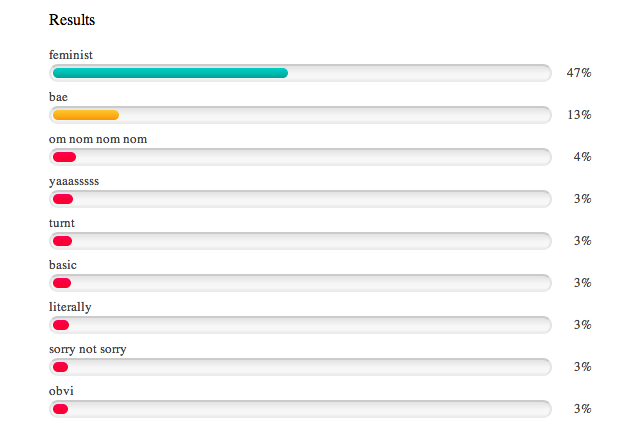 (via)
A pretty stupid prank, and a pretty good reminder of why we should all be talking about feminism a lot more.
(by Shira Rachel Danan)