The shared laundry room. It's where the crap goes down in every apartment building. You meet your neighbors, cross their boundaries, get mixed up in their unmentionables, and if you're not careful, you can have a building-wde bloodbath on your hands. Unless you adhere to these 17 simple rules.
1. Be careful what you leave in the dryer, or you could end a marriage (even if it's for the best)...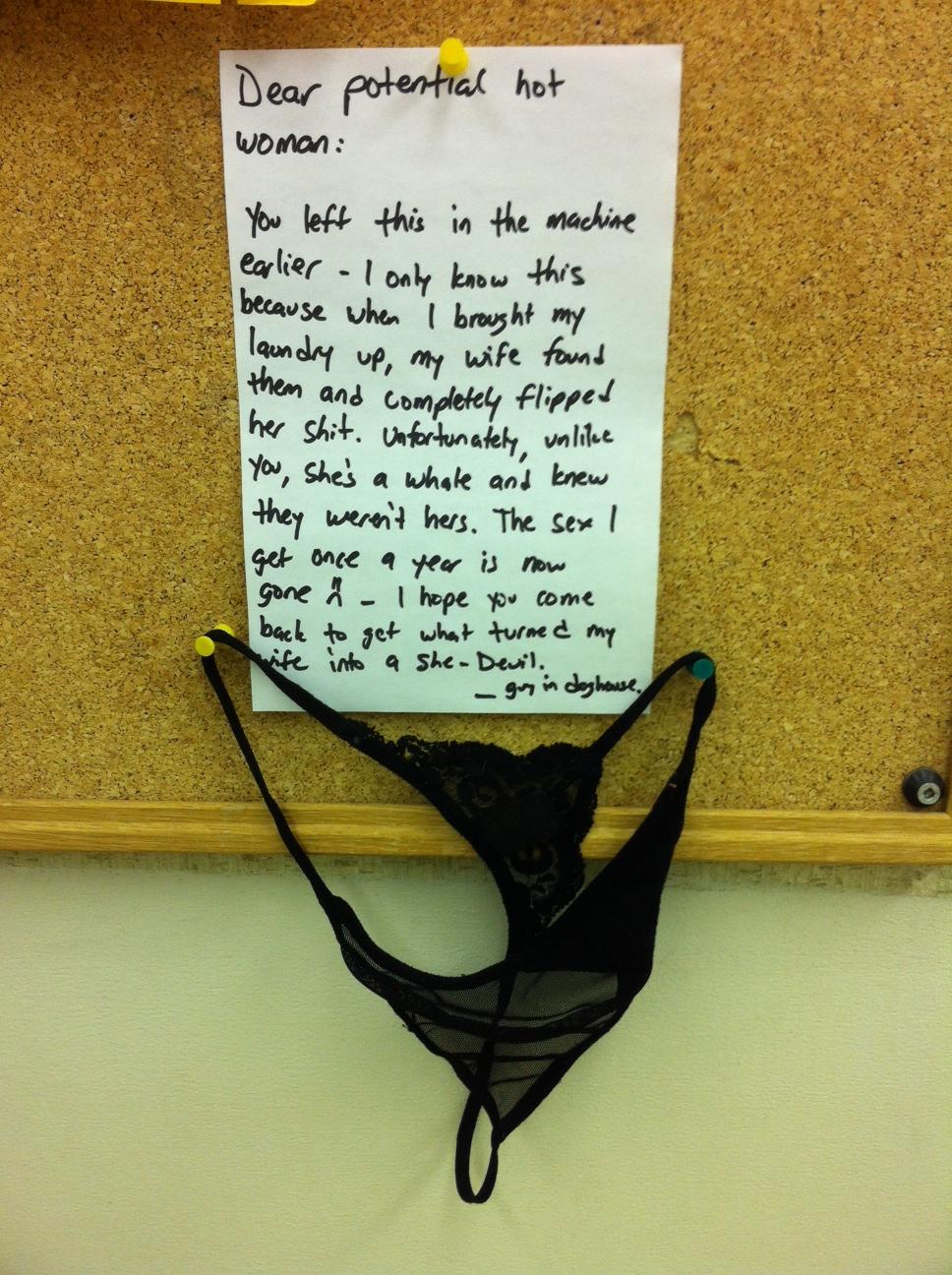 There are better ways of handling this! (Via)
2. Mind your business, and try not to pay attention to your more ignorant neighbors...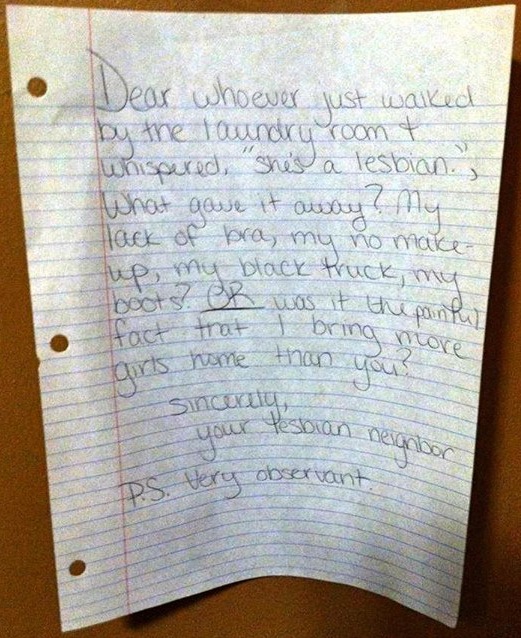 Black truck means lesbian? Thought that was just a Subaru thing. (Via)
3. Be generous and fight corporatism any way you can...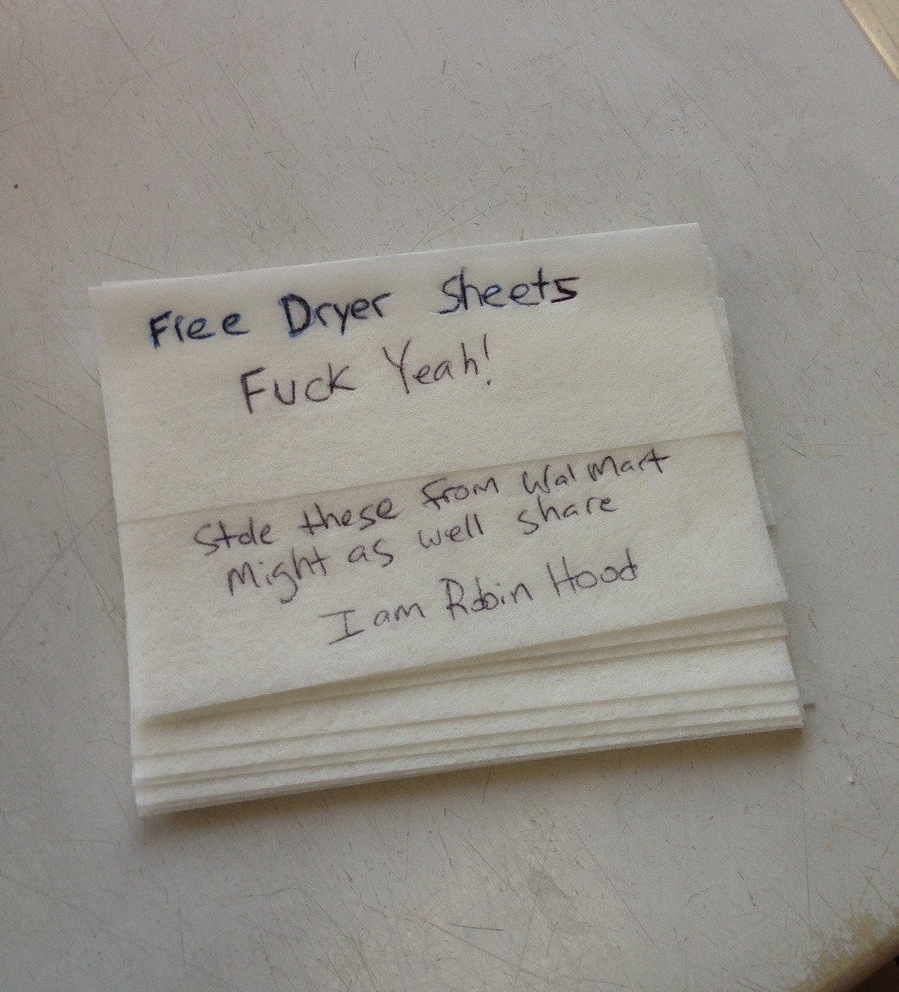 It's true. Robin Hood would totally take down Walmart first. Then Time Warner Cable. (Via)
4. Do your best to reunite your fellow building occupants with their most prized possessions...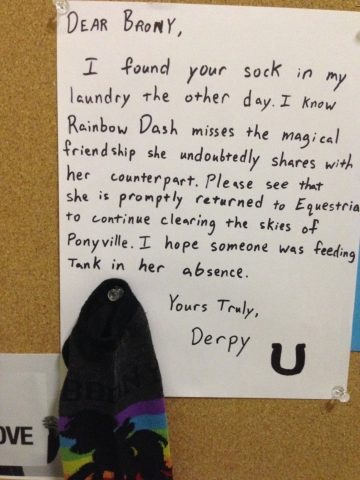 Sounds like Derpy has "ridden the pony" some as well. (Via)
5. Or even their possessions that are not quite so prized...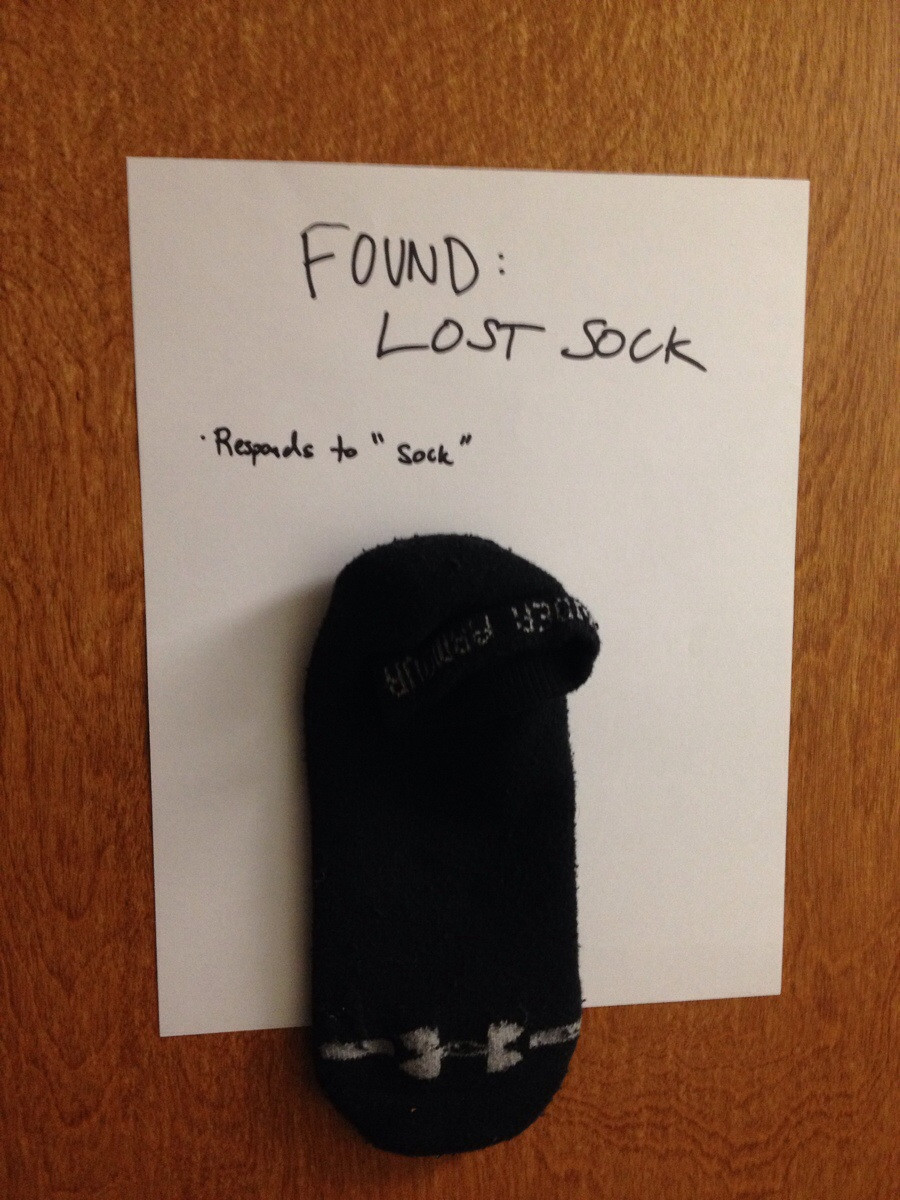 People really shouldn't let their socks run around without a collar. (Via)
6. If you must move other people's clothes, be civil and gentle as can be...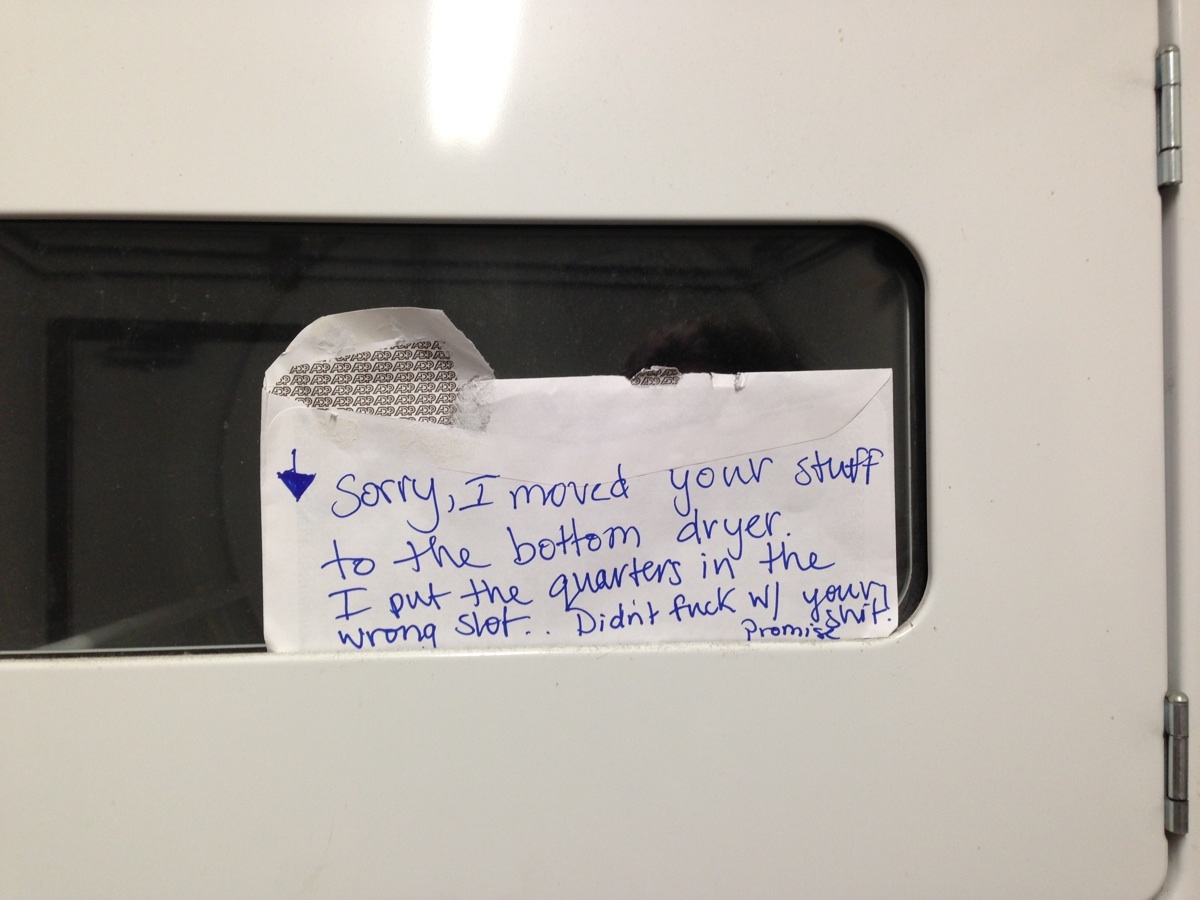 Screw promises. Swear it! (Via)
7. If you think someone was malicious when they removed your clothes, make sure your vengeance is creative...

People will think someone's suitcase opened up after falling from a passing plane. (Via)
8. But if you're not there when your machine's done, you're surrendering to the mercy of your neighbors...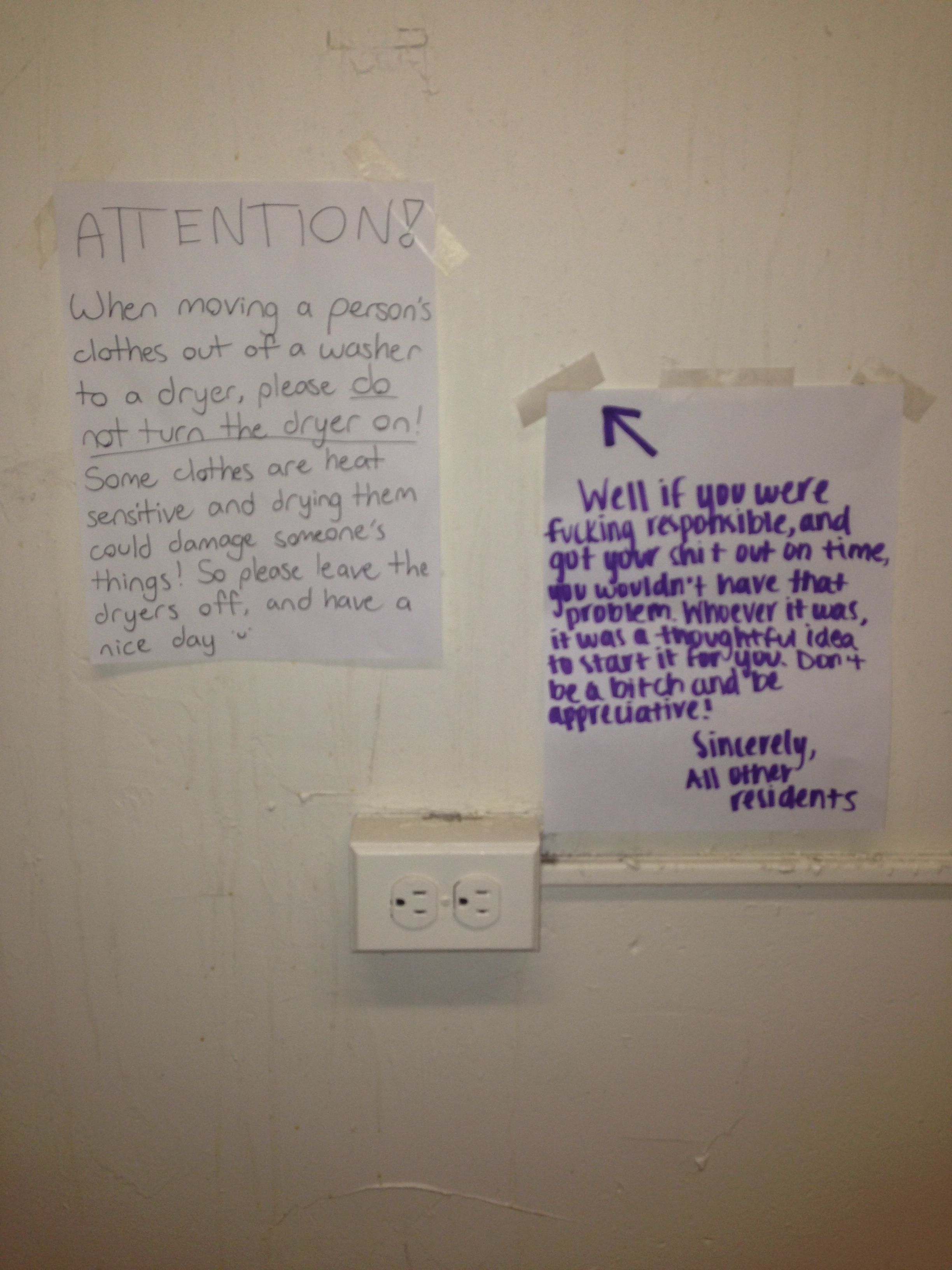 "All other residents" have quite a potty mouth. (Via)
9. Seriously, don't leave it in there too long. Life is short...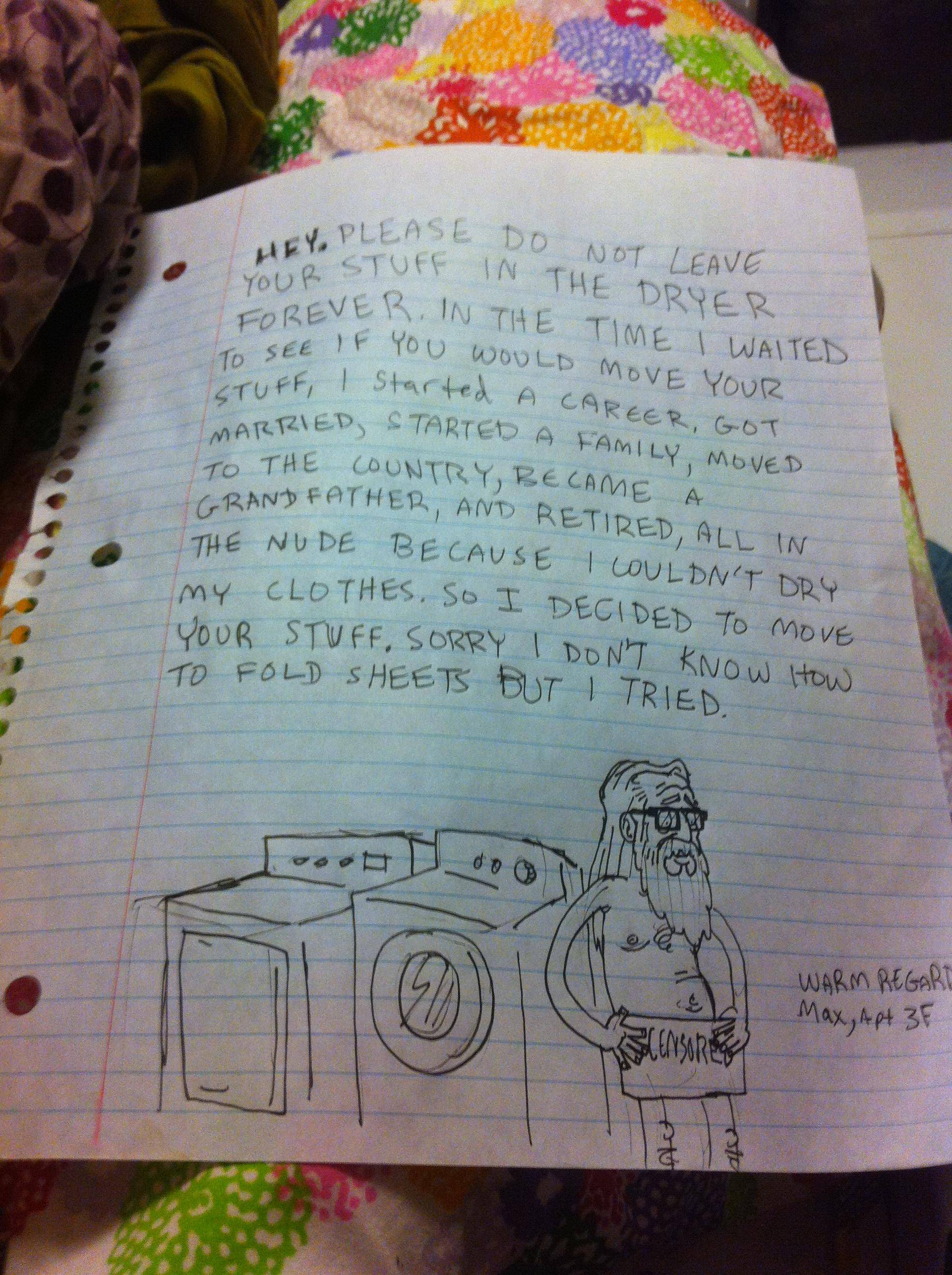 That is one productive naked person. (Via)
10. If a machine's broken, spread the word, but try not to get personal...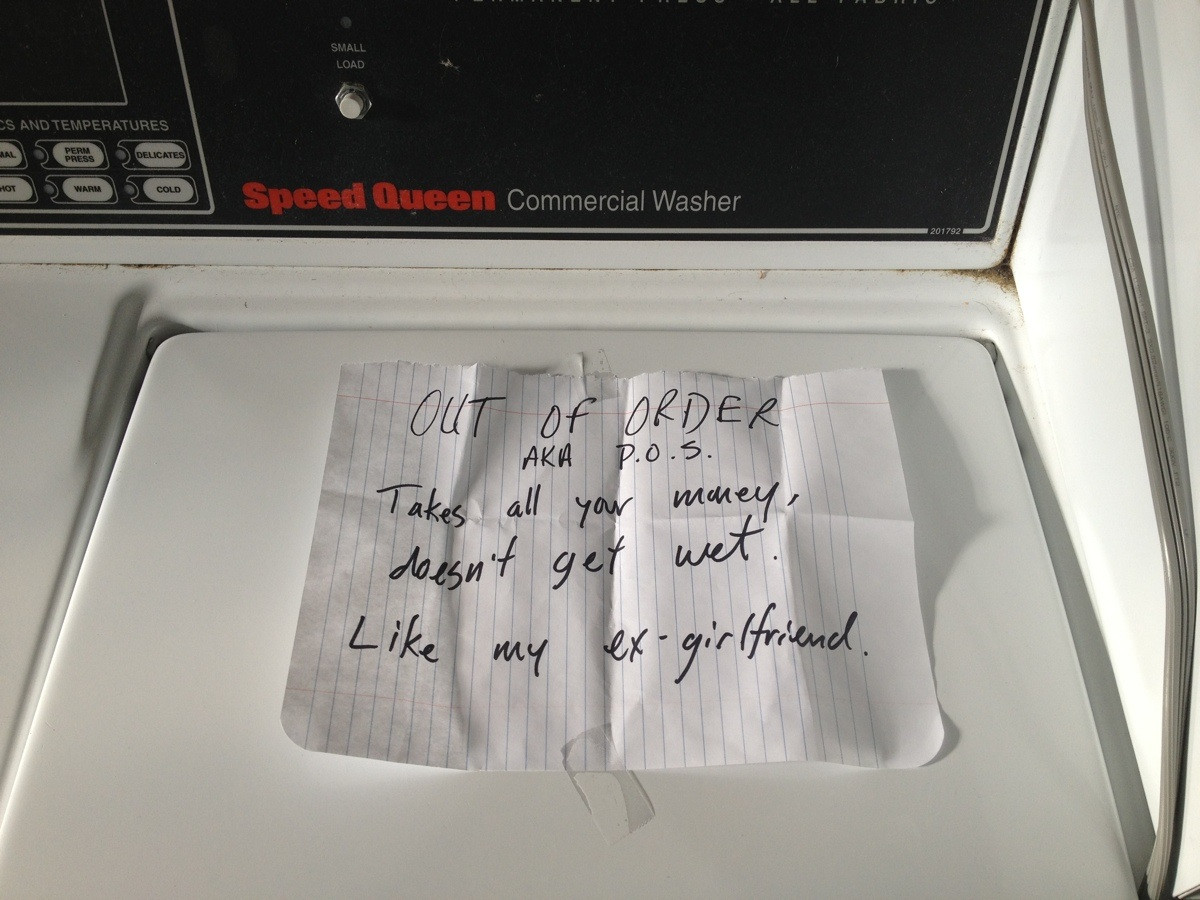 Perhaps you were inserting an undersized load. (Via)
11. No need to offer proof of a broken machine. They'll take your word for it...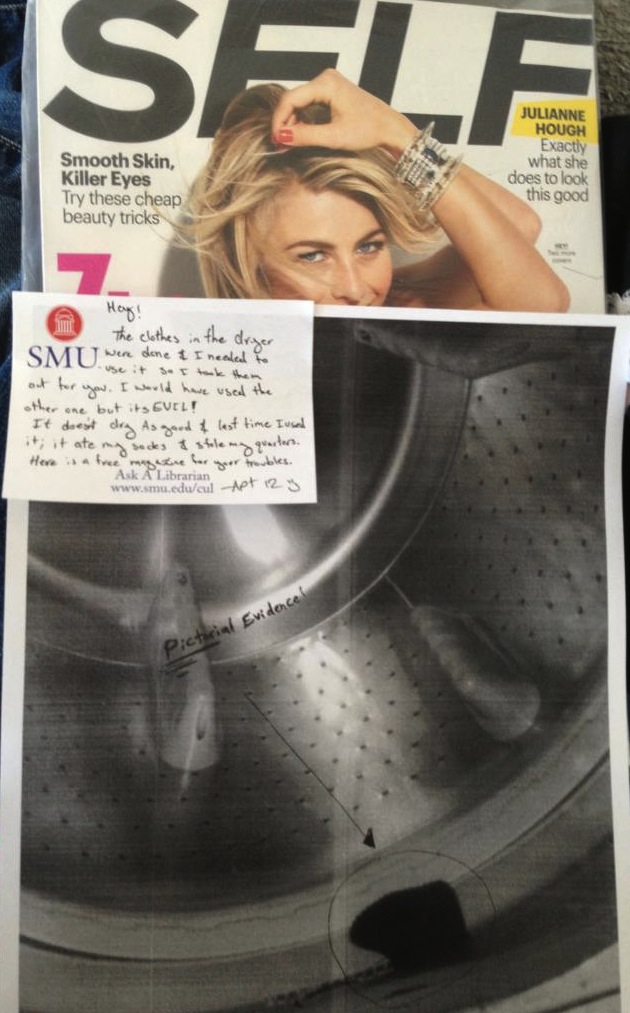 You could have provided a copy of the forensics report if you were really sorry. (Via)
12. And no need to over state the obvious...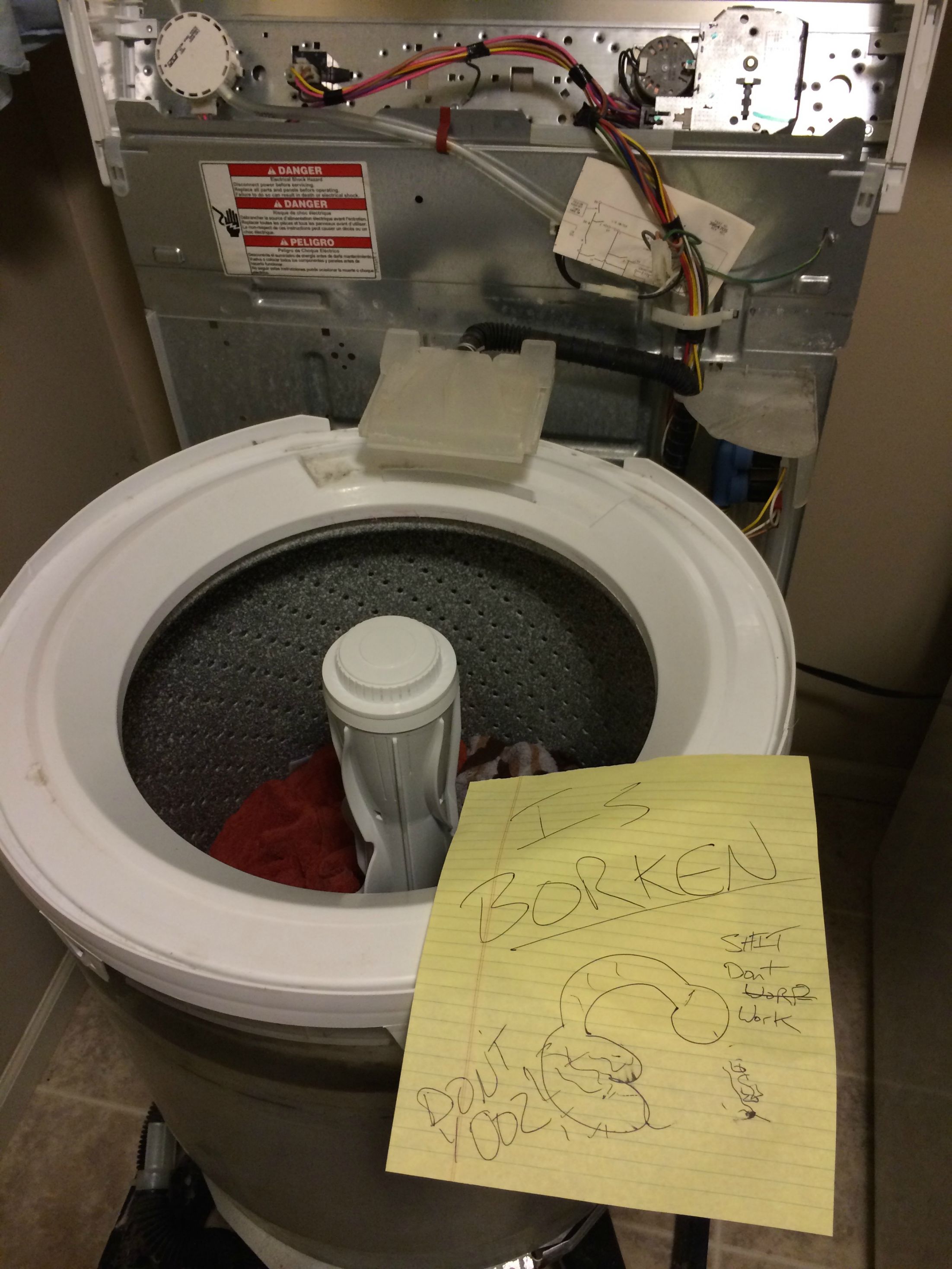 You don't say. (Via)
13. If someone accidentally ends up with your clothing, it's sometimes best if you let it go...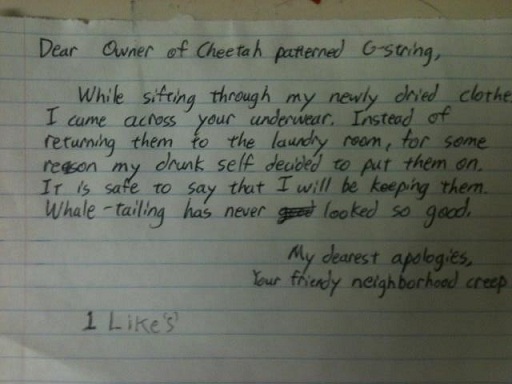 At least you know it went to a good, weird home. (Via)
14. Unless it's clear that the theft is getting way out of hand...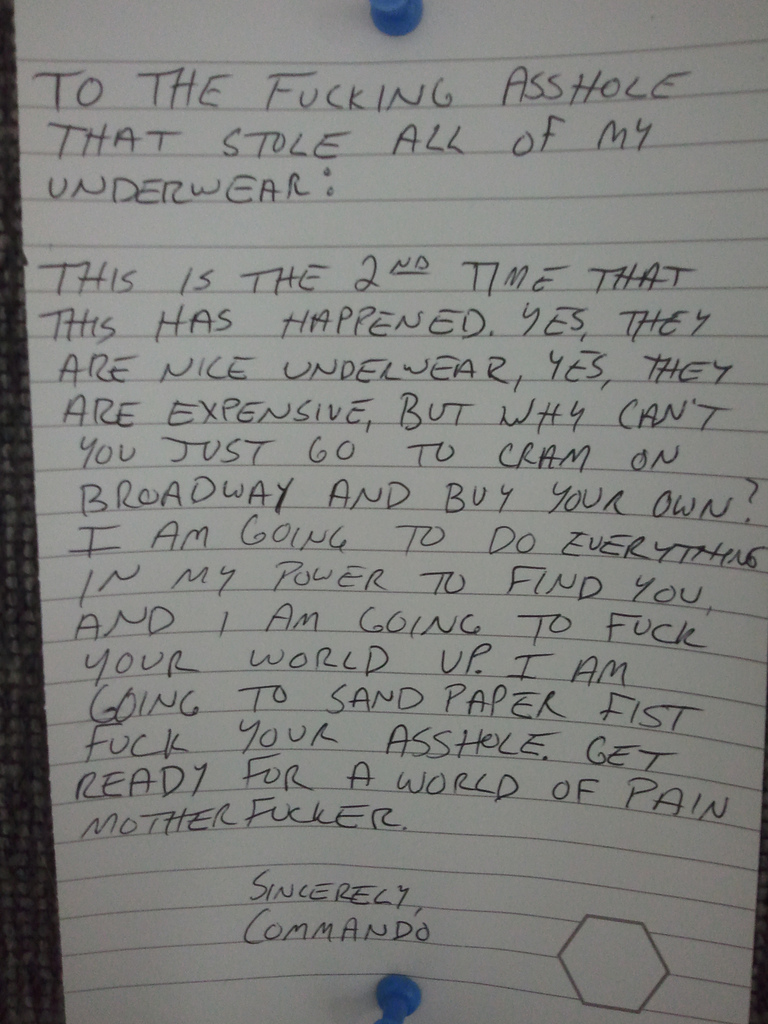 Get ready for a life wearing specially medicated underwear. (Via)
15. Then it might be time to resort to extreme measures, but no need for violence...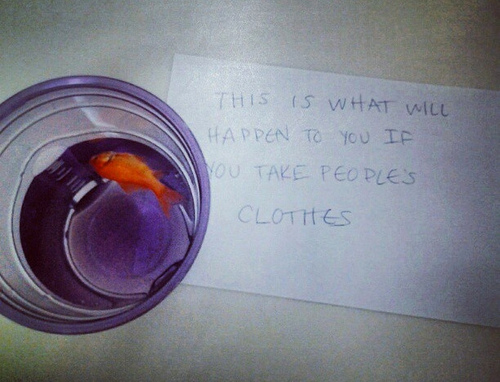 Leave the fish out of it! (Via)
16. Best to just do unto them as they have done unto you...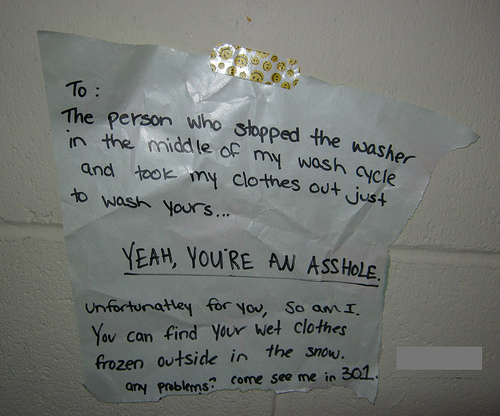 They pull a knife, you pull a gun. That's the laundry way. (Via)
17. Things can get real shady. Just do your best to get your clothes out on time, and keep your head down.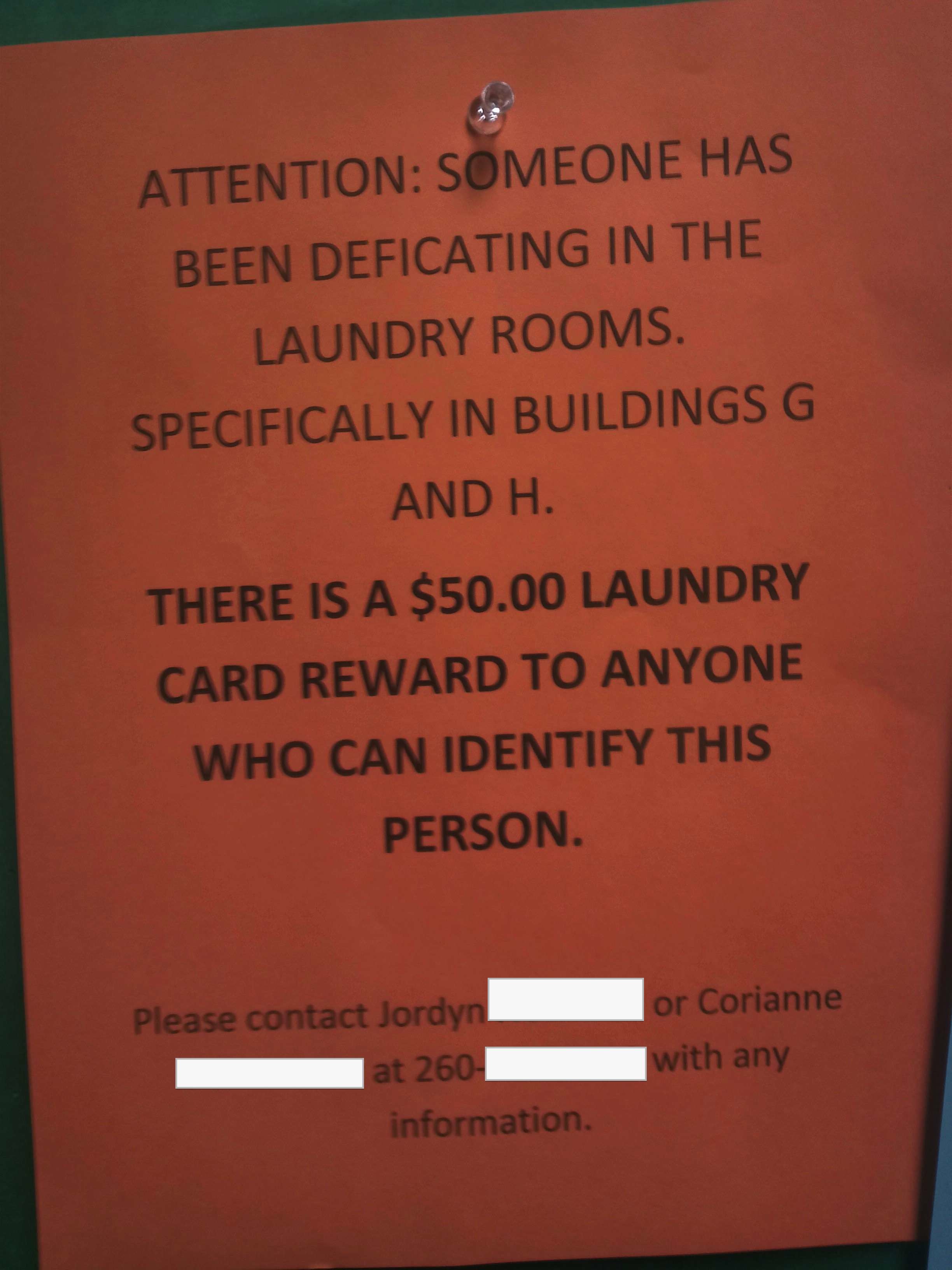 Laundry just brings something out of people. (Via)
(by Bob Powers)