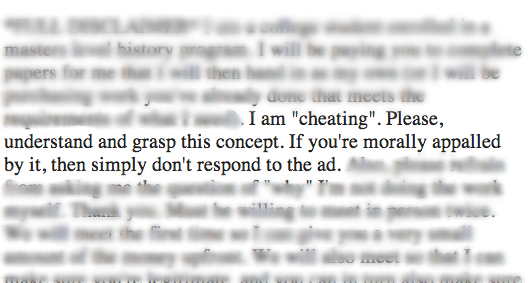 Okay we looked up "cheating." Now we're looking up "condescending dick."
A college undergrad who is in a "masters level history program" (well la di da!) posted the ad below on Craigslist seeking someone to write three history papers by May 7th, and she or he doesn't want to hear any of your "how could you" bullshit, okay? You get $50 up front, and the other $550 when you hand over the goods. Oh, and just to make sure you realize this is a for serious plagiarism and not just for laughs, the ad makes clear: "No games." 
Click on the image below to read the full ad:
It's very straightforward about the deal on the table for you, and it's especially detailed when it comes to what each paper needs to be about, which makes us wonder who wrote the ad for this student. Someone who would make the mistake of wasting time in a graduate level history program would be way too scattered and indecisive for such laser-focused expression. 
We'll heed the ad's command and refrain from condemning this student. We've all gone to college, or at least we've all successfully lied about going to college, and if you can pay a few extra hundred bucks on top of the $200 grand to get out of there quicker, go for it. They scammed you into matriculating and amassing an impossible debt load, might as well scam an A out of them here and there. 
(H/T Gawker)