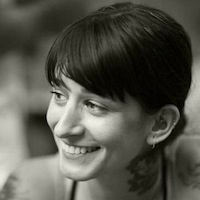 Filed by Jessie Dean Altman

|

Feb 02, 2016 @ 9:38am
In 2011, Ashton Colby from Columbus, OH was a 19-year-old girl competing in beauty pageants, including Miss Ohio. But he soon realized that his only hope for happiness was to live outwardly as the person he knew himself to be inside—a man—and over the next several years began transitioning.
In an interview with The Daily Mail, Colby—who has kept his given name private—revealed that he'd been unhappy about his gender and uncomfortable in his body since he was a toddler, when his mom "wanted [him] to do ballet and wear dresses, but [he] was a tomboy and into baseball." According to him, his good looks were actually a problem (haha, been there, right??) because his family's reminders that he was a "pretty girl" convinced him to ignore his desire to live as a boy.