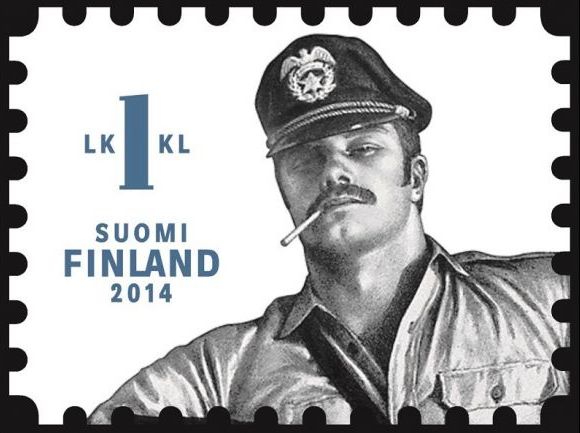 "'Sup, bro?" (via)
First of all, Tom of Finland is the best name I could ever think of for the name of an artist who draws strikingly burly and chiseled men in confident and playful poses, often featuring leather fetish imagery. Robert Mapplethorpe may be the name more people are familiar with in America, but hopefully Tom of Finland will get a boost on the back of the news that Finland has commissioned stamps from Itella Posti in honor of the late artist (1920-1991), whose real name was Touko Laaksonen. Although I was not familiar with his work, he has been called the most influential artist of his genre (he is very famous, I'm just ignorant). 
Maybe this will be a boon to gay rights in Finland, since gay couples currently can't marry or adopt there. Despite that lukewarm level of tolerance, Tom is one of the most well-known and respected artists the country produced in the 20th Century, and that's nothing to shake a stick at. The stamp sheet is comprised of two iconic Tom of Finland images selected by graphic artist Timo Berry, who said of the art, "the sheet portrays a sensual life force and being proud of oneself. There is never too much of that in this northern country." That's not to diminish its quality as homoerotica. As Tom himself once said, "If I don't have an erection when I'm doing a drawing, I know it's no good.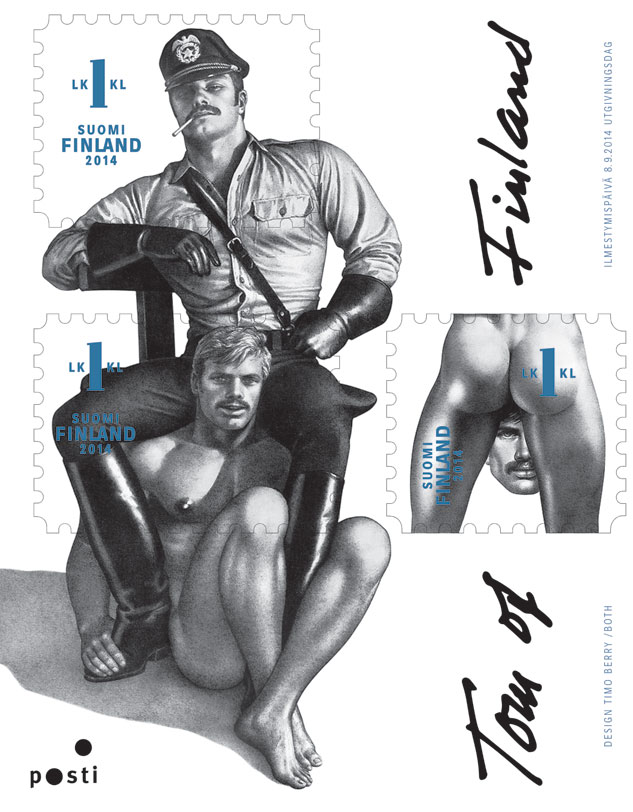 I like that the guy being sat on looks like he's in the middle of a calm conversation. (via)
I don't think I could even imagine how to draw people this handsome. The drawings look like Robert Redford woke up one day, realized he had been living a lie, and moved to a farm with Streetcar-era Marlon Brando (who made the same late-bloomer discovery and also bought a cop costume). They're also pretty hilarious in their own deadpan way.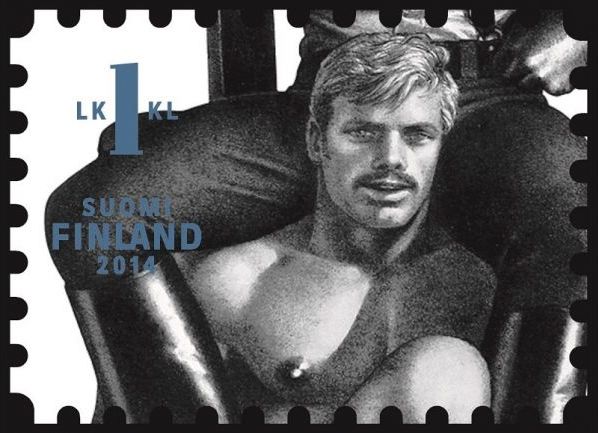 "Yeah, I'm taking it easy today. Just sitting around, maybe cooking dinner later." (via)
There they started working out every day and learned to use whips and other leather tools both on the farm and in the house.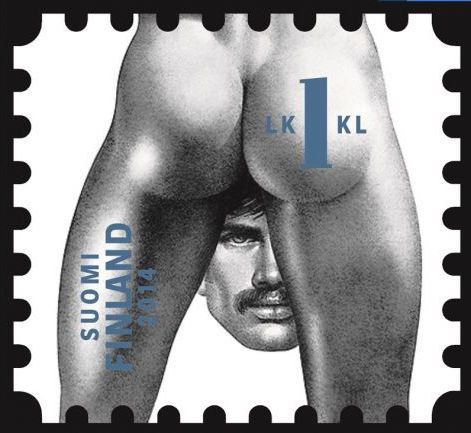 "'Sup, bro?" (via)
Well, now I'm questioning things, like whether I need to mail something from Finland all of a sudden. Nobody tell my wife.
(by Johnny McNulty)