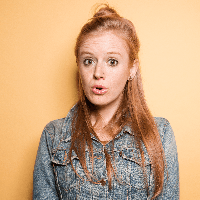 Filed by may wilkerson

|

Jan 17, 2017 @ 5:20pm
Manny Gutierrez aka Manny Mua is a YouTube star and model who is best known for posting makeup tutorials on YouTube and Instagram to his millions of followers.
He seems to be doing just fine. One could argue, better than most of us.
And yet, some guy named Matt Walsh who writes for conservative website TheBlaze doesn't think so (surprise!).
He shamed Manny's dad in one vicious tweet:
Gutierrez looks amazing and is obviously crushing at life, so when I first read this, I interpreted it as: "Dads! If you're there for your sons, they could turn out this great!"
I guess I was wrong.
Twitter immediately hung Walsh up to dry for being a judgmental homophobe. The best burn came from Gutierrez's pal, fellow YouTube star Scott Hoying:
@MattWalshBlog While he inspires and uplifts countless people worldwide, you have a hateful blog that no one reads ¯\_(ツ)_/¯

— Scott Hoying (@scotthoying) January 14, 2017
Others came to Manny's defense and dragged Walsh for his comment:
@MattWalshBlog that guy has almost 10x as many followers as you do on here and isn't a petty judgmental bitch to boot, dickless

— K. Thor Jensen (@kthorjensen) January 14, 2017
@MattWalshBlog Why do Christians focus so much fear and hate towards people who are different from them?

— Heisenberg (@atheist_in_nc) January 6, 2017
But the best response of all came from Gutierrez's dad. Get ready to cry off your (perfectly applied) makeup.
He wrote:
This is Manny Sr. Let me first begin by telling you that I've always been there for my son and will ALWAYS be there for him. Not only am I proud of what he has accomplished but I'm more proud of the person he has become. I know the words you speak are from lack of knowing anybody from the LGBT community. If you did, you would soon realise they are some of the most real and kind hearted individuals that walk this planet of ours. Going forward, I would choose your actions and words wisely. Just like you would do anything for your family, I would DO for mine. Good day Sir.
AHHHHH!!! WHAT AN AMAZING DAD.
Twitter clearly feels the same way:
One person said his own dad would've responded a little differently:
But Vince should know a viral Twitter clap back is the horse's head of 2017: it's the perfect revenge.
In the words of Michael Corleone: "don't ever take sides with anyone against the Family again. Ever."