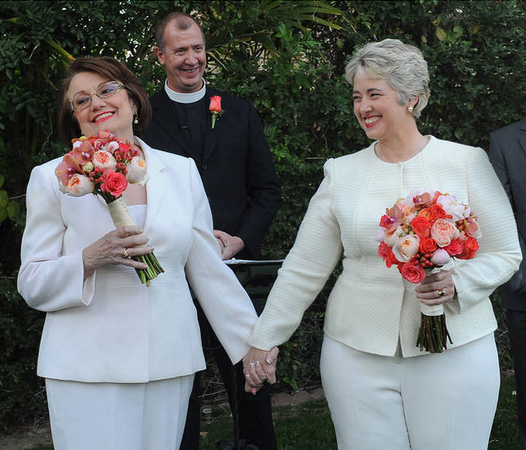 Houston, we have a solution. (via Twitter)
Houston's openly gay mayor, Annise Parker, married her longtime partner last week in California. The ceremony was held at a private residence in Palm Springs in front a handful of family and friends. Unfortunately, State Senator Dan Patrick wasn't able to be there due to a prior commitment to stay in Texas and be a bigoted sourpuss.
The Republican Senator was thoughtful enough to release a statement saying that the marriage was "obviously part of a larger strategy of hers to turn Texas into California." Parker responded by saying, "You don't commit 23 years of your life to someone to make a political statement." Queen takes Bishop!
Parker had previously stated that she wouldn't marry until her marriage would be legal in her home state. And the fact that Houston has an openly gay mayor who has been elected 3 times is a clear sign that the cultural landscape is shifting in Texas. But not quickly enough for Parker, who decided she had waited long enough to hatch her evil scheme to turn Texas into California.
(by Jonathan Corbett)