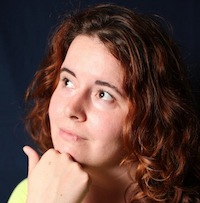 Filed by Aimee Lutkin

|

Nov 09, 2015 @ 5:08pm
An 11-year-old girl is speaking out after being shamed by One Million (obnoxious) Moms for having two dads. The anti-gay-marriage group started a boycott of American Girl magazine after the publication featured Amaya Scheer, her dads Rob and Reece, and her three brothers, all of whom were adopted out of foster care. In a statement, they wrote:
We must remain diligent and stand up for biblical values and truth. Scripture says multiple times that homosexuality is wrong, and God will not tolerate this sinful nature. American Girl doesn't highlight other sins in their magazine.
How many moms are actually members of One Million Moms? 5? 6? A Baker's Dozen? Amaya and her dads and her little brother Greyson were interviewed on Good Day DC about the controversy, and Amaya had the perfect response: