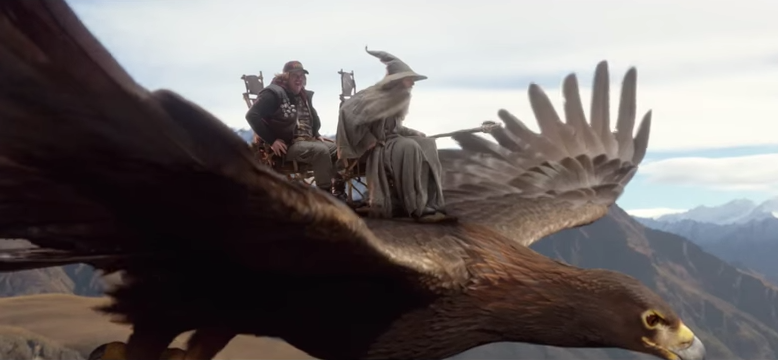 Sadly, there does not appear to be drink service on this eagle.
What's the first thing that pops into your mind when you hear somebody mention New Zealand? Maybe it's the folk comedy duo Flight of the Conchords. Maybe. Academy Award-winning actor Russell Crowe is a strong possibility. Except that you probably think that he's from Australia, don't you? (You probably do.) There's a non-zero percent chance that you think of the flightless/wingless kiwi bird. But that's not likely, because I don't think that even kiwis think of kiwis all that often.
Let's just cut to the chase: you think of The Lord of the Rings. It's fine. Everybody does. New Zealanders are well aware of this, and they're totally cool with it. In fact, I think they're kind of jazzed to be associated with hobbits, elves, orcs and massive preternatural spiders. Native-born Peter Jackson using their countryside as the real-world manifestation of J.R.R. Tolkein's Middle Earth was the greatest thing that ever happened to them, culturally or financially.
They've really gone all in. Just look at this in-flight safety video that Jackson's Weta Digital film company helped Air New Zealand produce:
Is this the greatest airplane safety video ever produced? It has to be. Consider this: not only did you just watch that video all the way through, but you're not even on an airplane.
(by Dennis DiClaudio)