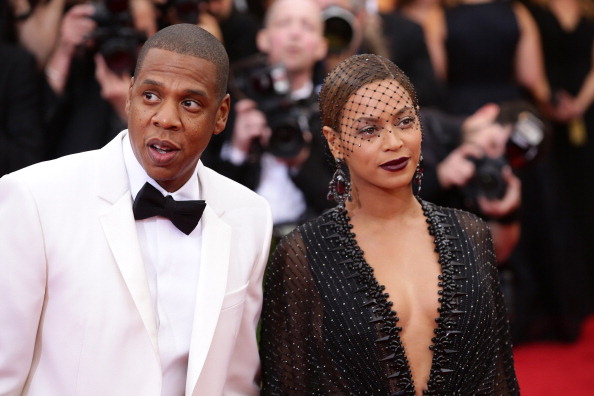 Looking in different directions. It was already over. (Via Getty)
It's looking like Beyonce and Jay-Z are about to be no more. Jezebel's saying it. The NY Post is saying it too. Every other gossip site is racing to be the ones who've been predicting it since forever. The unofficial rumors are starting to pile up and grow stronger, binding together to form an official, altogether possible likelihood that this. shit. is. happening. 
Keep calm. Breathe. Here are ten ways you can react.
10. Forgiveness. Call your parents and tell them you finally forgive them for getting the divorce. Yes, it's prevented you from engaging in any intimacy in your life, but Beyonce and Jay-Z couldn't make it work, so why should your talentless, non-photogenic mom and dad have been able to pull it off. "No one is meant to love," tell them. "I know that now."
9. Abandon. Engage in risky, promiscuous sex with a variety of people whose names you refuse to learn. With all hope for romantic love having been extinguished, physical, bodily closeness is what's left. "Just put some of you in me or maybe some of me in you and then forget I was here," tell your partners. Make sure to shake on it.
8. Self-harm. Stab your eardrums out. The music was lies. The songs declaring their mutual endless love and devotion over million-dollar samples were just something you could dance (or sway, or have once-hopeful sex) to. Pop your eardrums before you're tricked again.
7. Try To Find That Feeling Again. You're addicted to it, so you can't be blamed when you fall for other celebrity couples in the hope that they can give you what you had with Bey and Jay. But Ashton and Mila won't cut it. Ben and Jen are just going through the motions. Brad and Angelina? Too obtuse. It's hopeless. You had the dream, but the dream died. 
6. Invest In Legalzoom.com. Or another do-it-yourself legal document website. This divorce is going to result in a flood of no-fault amicable divorces as millions of couples realize it's just not worth trying to make it work anymore. Websites that help you to file divorce action with minimal cost are going to make a killing, and so will you if you move the money today.
5. Find Religion. You need something to believe in again. Love eternal was a lie, so why not try God? Or Wicca? Or whatever those smoking mutes are on HBO's The Leftovers? A religion where you get to smoke and wear jumpsuits! Yeah, that one. 
4. Get Cats. They're there for you, but they're not all there. They'll cuddle up against you, but you're pretty sure they'd forget you ever even existed if another warm midsection walked into the house possessing the dexterity to pull open a tab on a can of cat food. This is the kind of relationship you can accept from now on. This is the best you can ask for. Get cats (or a really withholding dog).
3. Beat Yourself Up For Not Seeing It Sooner. Review those red carpet pics of Jay pretending to propose all over again. Study them. Have them analyzed. Look for cracks in the facade. They were lying to you all this time. That entire event was probably staged and you fell for it. Look into a mirror and vow to never believe anyone's lies again, then wrap a sequined unitard around your fist and punch the mirror into shards.
2. Refuse To Pay Your Illuminati Dues This Year. If the shadow council couldn't keep Bey and Jay together, it's time to issue a vote of NO CONFIDENCE. Best way to do that is with your wallet.
1. Be Reborn. Everything up to this point has been lies. With this news, you are reborn in truth. Every birth is painful, but to keep living beyond the pain, that's where joy is found. You'll find it. You'll find joy again.
(by Bob Powers)