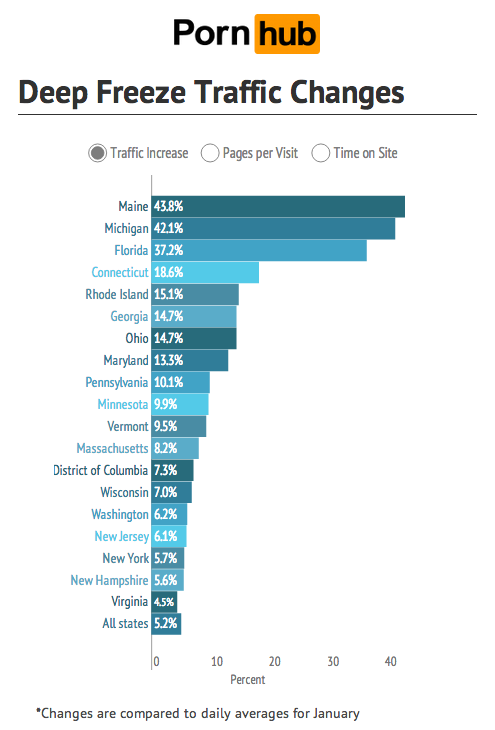 Gotta keep warm somehow. (Screengrab via Pornhub)
Now that major weather events are more frequent, we need to crunch all the data we can get to measure the effects on the nation and predict our response to future such events. Thankfully, Pornhub is there for us. 
Sure, finding out the best movie that took place in your state is fun, but this is important! With their recently published traffic stats for January 7th and 8th, the height of the Polar Vortex, we can get a measure of the Vortex's effect on the cabin-fever inspired horniness of a particular region, something both the Weather Channel and Accuweather continue to omit from their forecasts.
As you can see, Maine and Michigan were number 1 and number 2, respectively, for porn consumption increases compared to the daily average for January.
The biggest surprise would appear to be that Florida ran away with the number 3 spot, leading one to assume they're all just pervs whose masturbation levels increase at a pace that the rest of the country matches only when cooped up inside for days. But Florida had its own weather shifts to deal with. The temperature in Miami dropped from a high of 84 degrees on January 6th, to a bone-chilling 59 degrees on the 7th. And up in Tallahassee, their high temp didn't go above 35 degrees. A far cry from the sub-zero temps up north, but to Floridians, weather like that is more than a reasonable excuse to turn off the ceiling fans, close the blinds, and open up their board shorts for a few minutes of "me-time."
(by Bob Powers)