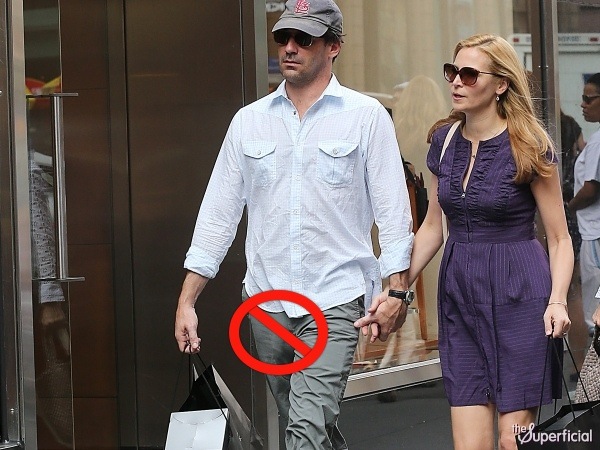 Sorry little fella. Go hang out at "Game Of Thrones" or something.
Being celebrated as the sexiest man on cable TV (sorry, chained up armless zombie twins from Walking Dead) can make some actors want to hide themselves away to protect their privacy. But not Jon Hamm. As evidenced by his free-wheeling, let-it-all-hang-out, "who cares if people can see my rod?" attitude, Hamm is not a fan of underwear. Today The New York Daily News reports his anti-briefs stance forced a staffer on the set of Mad Men to demand that he add a layer to his wardrobe.
A source at AMC explained, "This season takes place in the 1960s, where the pants are very tight and leave little to the imagination." It's not clear if the source is aware that the entire series has taken place in the 60s, and America's imagination has already exhausted all the possible things that can be done to Jon Hamm's dick. 
Reportedly, the impressive Hamm-steak (oh come on, just once) is often visible on set, and it frequently has been photoshopped out of promotional shots. Given AMC's haggling over Matthew Weiner's contract terms, we assume the network is trying to save money on the after-effects necessary to edit Hamm's genitals out of footage. Or maybe this is just a cheap ploy to get us all watching the new season in extra-slo-mo any time Don Draper unbuttons his jacket to sit down.
Before it goes away forever, let's take one last peek at Hamm's penis out in the wild.