Last night on Empire, during what seemed to be a grave conversation about a character's fast-eroding mental health, a bold new addition was introduced to the world of network television: The Blow Job Bib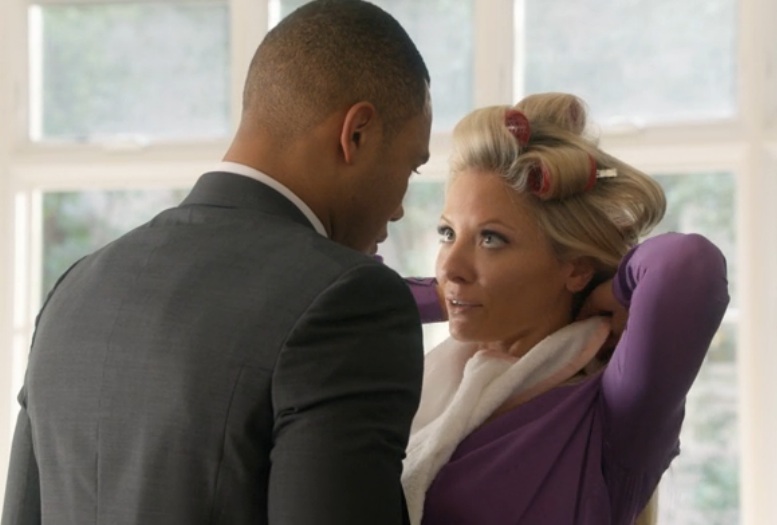 Just let me imbue this fellatio with a little childlike wonder.
If you were one of the millions who tuned in to last week's premiere of Lee Daniels' new one-hour hip hop soap opera Empire, you probably reacted the way most people did, with a shocked and plaintive "Holy crap, this might not suck!" The premise of Terrence Howard as drug-dealer-turned-rap-mega-mogul Lucious Lyon engaged in corporate warfare against his ex-wife and sons for control of his label seemed destined to be campy at best, and at worst, cancelled by February.
Instead, what the premiere seemed to promise was a hip hop version of Dynasty, with strong characters, amped up verbal battles, and Timbaland supervising a soundtrack that at least wasn't entirely embarrassing. Everything seemed on track.
Then came episode 2, "The Outspoken King."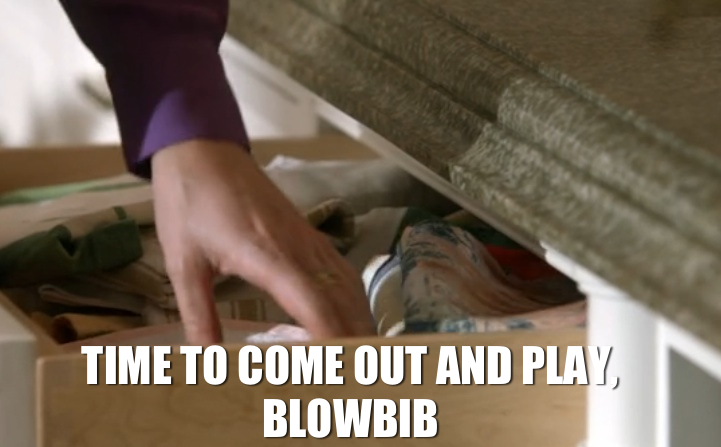 About ten minutes in, we're settling into what appears to be the morning routine of Lucious's son Andre and his wife, Rhonda. Andre is recording for himself a series of voice memos hammering down his schedule for the day. Rhonda listens in, and becomes concerned.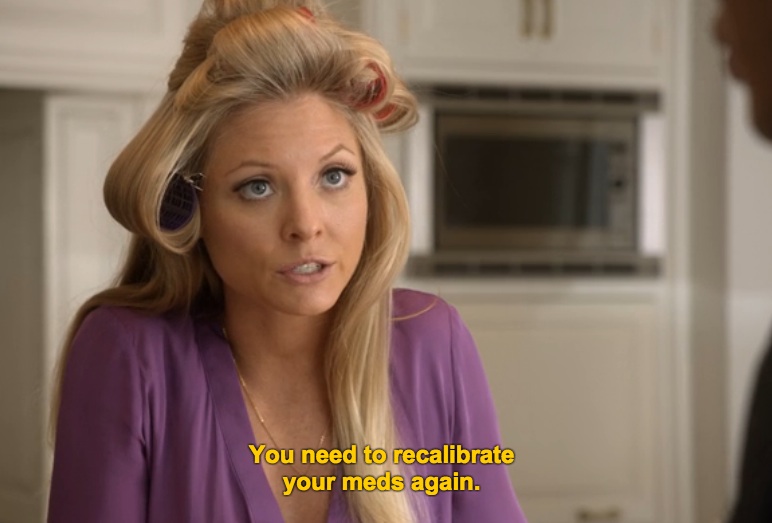 Oh no. It turns out poor Andre is bipolar. This could be serious. He's not going to the doctor, not taking his meds. How does a wife deal with a bipolar husband who's refusing pharmacological treatment like this?
In the world of Empire, she ties a baby bib around her neck and goes down on him in the kitchen.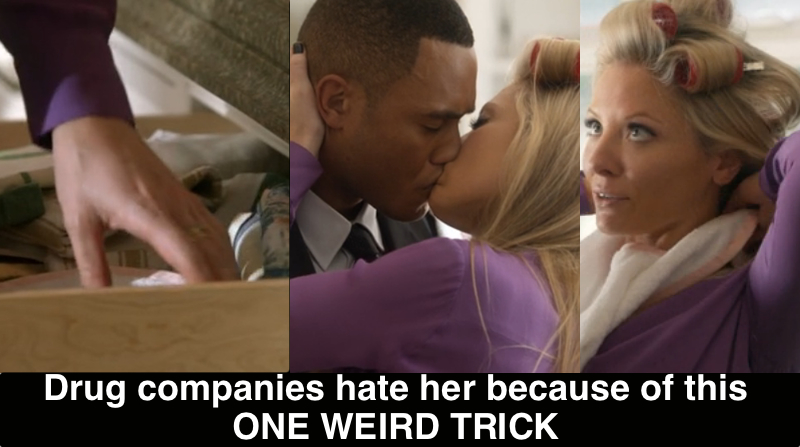 Does this technique work? Pssh, yeah. Rhonda barely even gets Andre's pants open before he agrees to return to his doctor.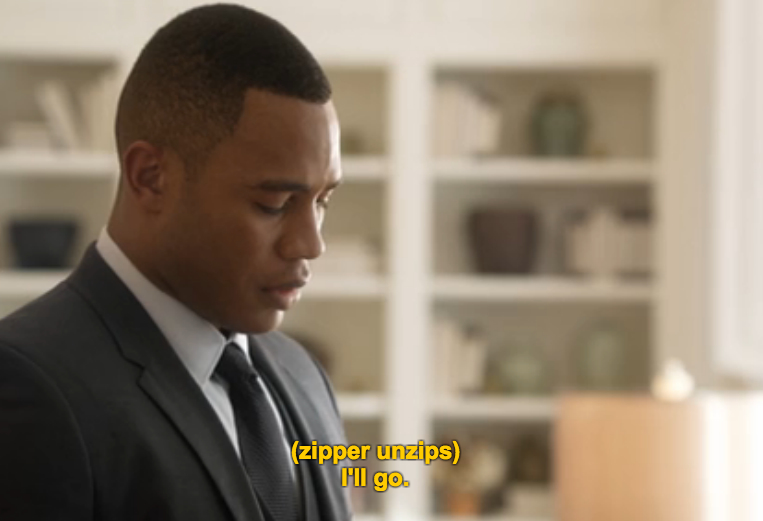 Leave your co-pay on the bib.
This is how Empire is going to pull away from the pack. We've all seen the pre-work blow job device. With the addition of the Blow Bib, not only do you have an icebreaker at the watercooler, you've got yourself a hell of a merchandising opportunity.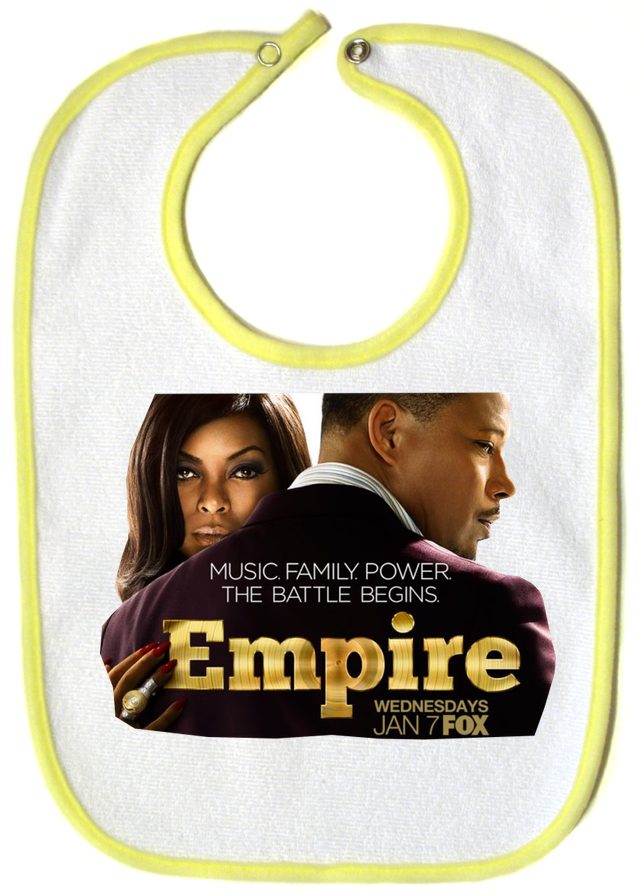 Available wherever baby-themed fellatio wear is sold in your neighborhood.
So many questions, Empire. Let's knock em all out real fast.
Does Rhonda keep her blow bib in the kitchen island drawer because she's a girl on the go and her morning, take-your-meds fellatio routine always happens when the two of them are already dressed and finishing up breakfast? Or, if we inspected Rhonda and Andre's home, would we find a baby bib stashed away in drawers in every room in the house?
Does it have to be a baby bib? Would a lobster bib suffice? Bubba Gump's let's you keep them.
If things escalate to vaginal, does she tie her "Kiss The Cook" apron around her waist?
For anal do they just throw down a painter's tarp?
Things were already looking like they were heading to camp town before we even got to Rhonda and Andre. We barely made it to the opening titles before Lucious's current lady Anika greeted his ex-wife Cookie dressed like so: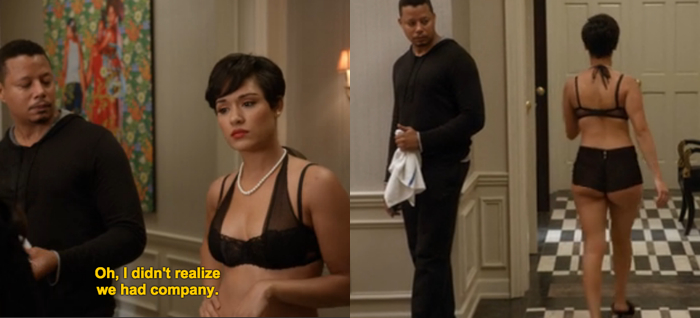 Keepin it casual at La Casa Lucious.
And while last night's episode was overflowing with silliness, they go just far enough over the top to bring me back for episode 3, like this phone call to President Obama after Lucious's son had a video of him calling the president a sellout go viral: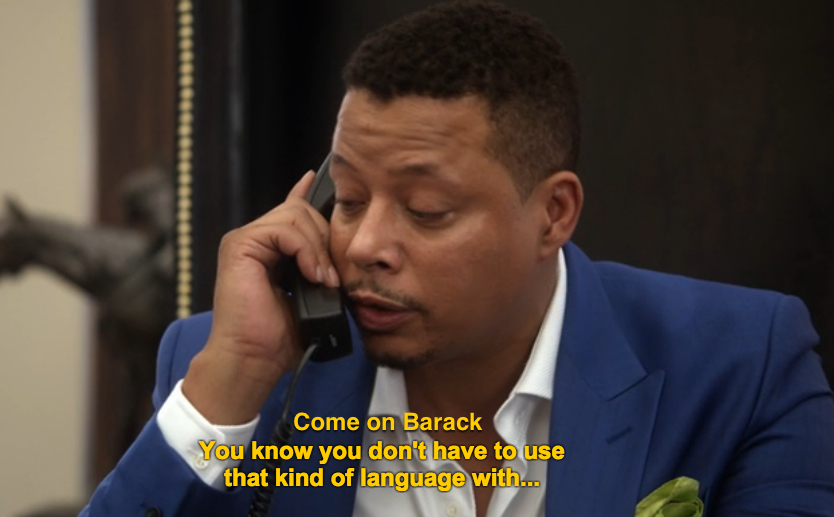 Yasssss. Remember, Barack, the streets ain't made for everybody. That's why they invented sidewalks.