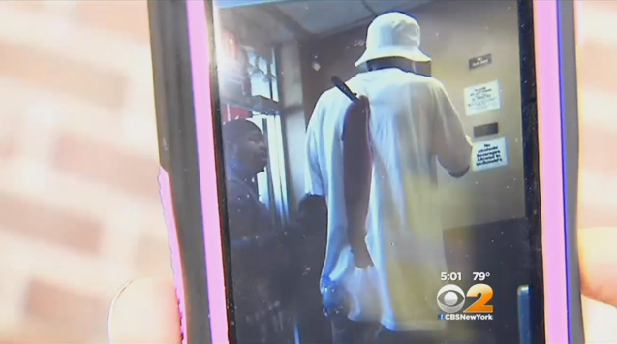 So, nobody's gonna say anything about this guy's Gilligan's Island bucket hat? (via CBS)
A man walks into a McDonalds in Jamaica, Queens with a bloody knife sticking out of his back... stop me if you've heard this one. 
Witness Tromaine Yancey was in the McDonalds being interviewed for a job when the stabbing victim came in.
"Everybody was screaming, there was a lot of commotion," he told CBS.
Yancey said the man, whom police described as being in his 50s, and whom everyone else will describe as "that guy with the knife in his back," was on the phone when he walked in. 
— PzFeed Top News (@PzFeed) June 24, 2014

These other guys don't seem to give a fuck, either.
"I'm pretty sure he was on the phone talking to somebody in his family or a loved one or something, he was talking to them and telling them it might be the last time he's speaking to them. It was shocking to me because he was still standing there with the knife in his back," Yancey said. "He was bleeding a lot." 
At some point the man fell on the floor and patrons were trying to make sure that he didn't fall on his back.
The man was eventually rushed to Jamaica Hospital in serious condition.
Witnesses say that the stabbing was the result of a fight that happened Monday. Police are looking for two men they believe to be involved. 
No word yet on whether Tromaine Yancey got the job. We're pulling for you!
(by Myka Fox)