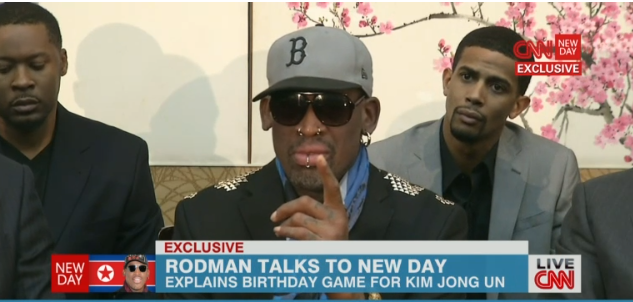 Dennis Rodman tells it like it is (in a universe where coherent thought is unwelcome).
(Screencap via CNN)
North Korea diplomat Dennis Rodman participated in an interview this morning with Chris Cuomo on CNN's New Day, and it didn't go all that well.
Rodman was speaking on the occasion of a basketball game to be played in celebration of Kim Jong Un's birthday. Chris Cuomo asked Rodman if he thought it was a good idea to be there given the recent news that the man being celebrated just had his uncle executed (not by being fed to dogs, apparently, which no one should have believed since there's no food in the country for domesticated pets to survive on), and that American citizen Chris Bae has been detained in the country on vague charges for over a year now.