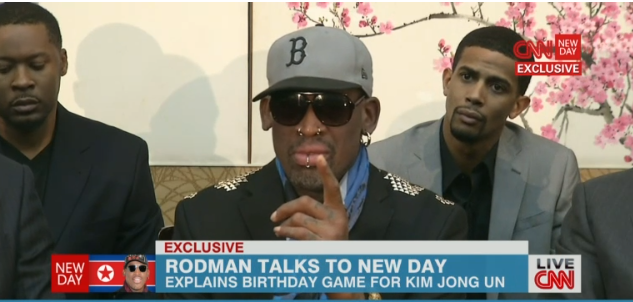 Dennis Rodman tells it like it is (in a universe where coherent thought is unwelcome).
(Screencap via CNN)
North Korea diplomat Dennis Rodman participated in an interview this morning with Chris Cuomo on CNN's New Day, and it didn't go all that well.
Rodman was speaking on the occasion of a basketball game to be played in celebration of Kim Jong Un's birthday. Chris Cuomo asked Rodman if he thought it was a good idea to be there given the recent news that the man being celebrated just had his uncle executed (not by being fed to dogs, apparently, which no one should have believed since there's no food in the country for domesticated pets to survive on), and that American citizen Chris Bae has been detained in the country on vague charges for over a year now.
Rodman reacted...emotionally. 
"This is a great idea for the world," he growled at one point, jabbing his cigar at the camera throughout the interview.
"Kenneth Bae did one thing," Rodman said. "If you understand what Kenneth Bae did. Do you understand what he did in this country? No, no, no, you tell me, you tell me. Why is he held captive here in this country, why? ... I would love to speak on this."
Chris Cuomo tried to explain to Rodman that a live interview currently in progress is the perfect time to "speak on this," but Rodman didn't take the hint.
Directing attention to the apparent sacrifice his fellow players were making, Rodman said, "I don't give a rat's ass what the hell you think. I'm saying to you, look at these guys here, look at them ... they dared to do one thing, they came here."
That they did. Watch the interview below:.
The full segment:
(by Bob Powers)