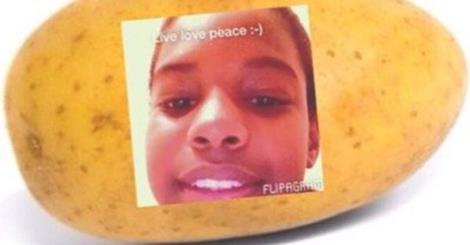 Excuse the mess it made. (Via FB)
Getting lyrics wrong to a song is an adolescent right of passage. Revved up like a douche in the middle of the night, anyone? 
It was embarrassing when that dude from Stain'd couldn't get the National Anthem right, but when the little girl behind the Vine account "pg bree" mistook the lyrics of Frank Ocean's "Thinkin' 'Bout You," the Internet fell in love with it. 
The lyrics are supposed to go, "A tornado flew around my room before you came," but in early October, pg bree sang, "a potato flew around my room." Which creates a very amusing mental image that is also very easy to create as a real image. 
That's what "lil syd from the trap" did four days after pg bree made her mistake. Now lil syd from the trap's Vine become even more popular than the original (Click bottom right corner for sound) :
And it has spawned a bunch of other versions:
It's only been less than a month. but this potato meme has already made it full circle
Remember that potato that flew around your room? This is him now. Feel old yet? pic.twitter.com/kuOQYjYIbi

— Baj (@BreJenk18) October 29, 2014

Go forth, little potato, all eyes are on you. 
(by Myka Fox)