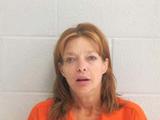 Rough week: betrayed by her dealer and the cops.
Lynette Rae Sampson was was just doing some meth when it struck her, she'd had better meth before. Someone has been messing with her meth.
Not one to be ripped off, she called the cops to investigate. They would be able to tell how pure her meth was, and, bonus, if she had been ripped off, now she had some pros to handle her case.
According to an Enid, OK police affidavit, Officer Aaron Barber went to her house to investigate. When he got there, he knocked on the door, and Sampson greeted him with, "I'm glad you came."