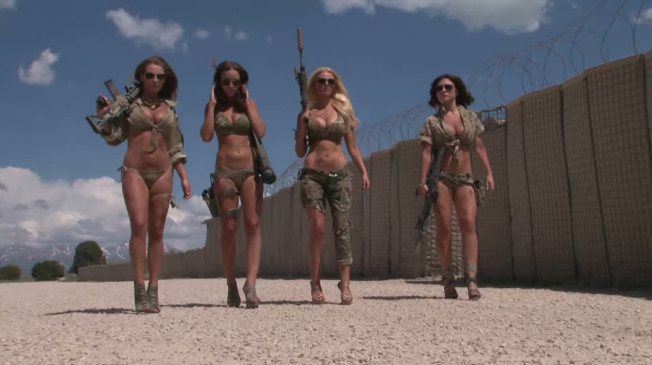 Cool, a sequel to Team America: World Police! What? Those are humans?!
While Fox News continues to hemorrhage paranoia over the possibility that ISIS will smear terrorists with Ebola and smuggle them over the border through Mexico (really, dudes?), our media continues to ignore the real threat to national security: hot British chicks. That's right; the Utah National Guard has confirmed that it has opened an investigation into whether its bases, equipment and soldiers were used for a "Hot Shots 2015" calendar shoot (full of pretty women with very little clothing shooting very big guns)  without authorization. 
Hmmm. One giveaway could be that there were a bunch of hot girls who came by and filmed this, and now no one can seem to remember how it happened:
Yes, you did see a girl giggle and throw some kind of small explosive in the first 15 seconds. Yes, that did look dangerous as hell, and no, I did not have much success in pulling my eyes away. As a taxpayer and as a citizen who is turning off *that* part of his brain, however, I am outraged. The government constantly emphasizes how hard terrorists are trying to get into our national security infrastructure, and apparently all that's stopping them are Y chromosomes and extra clothing.
As you can see at the end of the video, the gals give a special thank-you to the "Soldiers of the 19th Special Forces Group," stationed in Utah, and other members of the Utah National Guard have been visually ID'd (presumably by their girlfriends) and reported. Furthermore, the Utah Department of Public Safety has launched its own inquiry, because of course the state police wanted in on this, and a pair of officers were also seen in the video.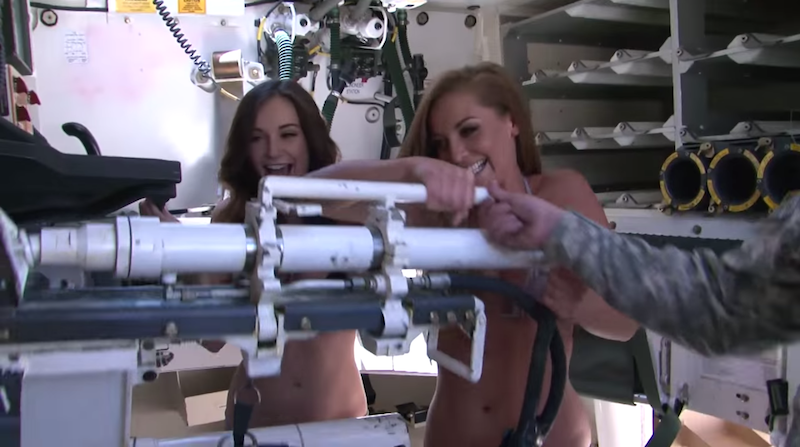 That arm helping these two load a tank weapon is probably not authorized to be there.
I think it's pretty obvious what happened here (hot girl says "please," guy stuck in desert says "yeah, ok."), but the military is still determined to go through the motions of pretending to figure it out slowly. 
According to a statement from Lt. Col. Steven Fairbourn, 
An investigation was initiated by the Utah National Guard on Oct. 14 to determine potential unauthorized use of military equipment, facilities, and personnel in the Hot Shots 2015 calendar production.

Productions of this kind are not in keeping with the values of the Utah National Guard nor its members.

Use of military equipment, facilities, and personnel in civilian for-profit endeavors such as this requires approval of National Guard Bureau Public Affairs through the respective state National Guard Headquarters. There was no official approval for this project. The investigation will determine if Utah National Guard equipment, facilities, and personnel were used in the Hot Shots 2015 calendar production and required actions if this is the case.
As fun as it is to hear the members of the National Guard pretend to have no memory of how this could have possibly happened, it's also really disappointing. Utah State House Minority Leader  Jennifer Seelig (D) is from Salt Lake City, and as a member of the Executive Appropriations Committee has partial oversight of the UT National Guard, not only wanted to know if anyone directly profited this, she also had some particularly choice words for Utah's FOX13:
"If this video was shot at a government restricted facility using government specialized military equipment, either leadership knew about this — or their security protocols aren't robust enough to keep a bunch of calendar girls and their crew and assorted groupies out.

It flies in the face of any progress we have made in the military and sends out this archaic message to girls and women that their true value lies in their body parts."
I couldn't agree more, Rep. Seelig. Though, the military is pretty concerned with your body parts; not so much with the ogling them, but with the putting-them-in-harm's-way aspect.
(by Johnny McNulty)