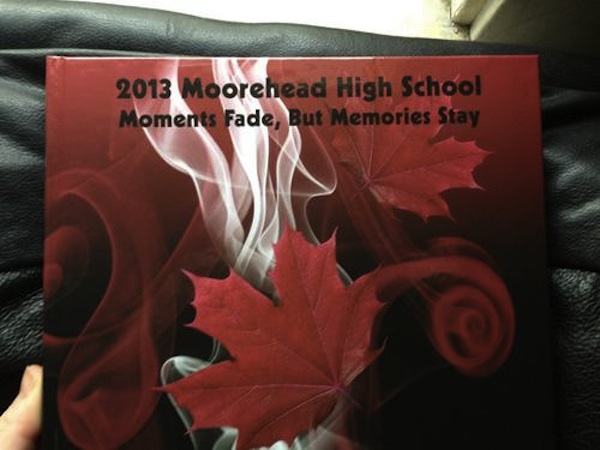 Don't worry, kids. That mysterious smoking leaf will distract people.
The yearbook editors of Moorhead High School in Moorhead, Minnesota have learned the hard way that the mistakes you make in high school will follow you around for the rest of your life. They misspelled the name of their own school on the cover of the yearbook. As a former high school yearbook editor myself, I can tell you that this is one of the biggest no-no's in yearbook editing.
The school can't afford to purchase new yearbooks, so they're looking into "high-quality adhesive labels" (a.k.a. stickers) to cover up the problem. But the students involved are sure to discover that while the moment when they made this mistake may fade, the memory of their stupidity will stay forever. Perhaps sophomore Jason Wentzell said it best when he commented, "I just think it's really weird that they misspelled the town that they live in." Spoken with the wisdom of a senior, Jason.
(by Shira Rachel Danan)