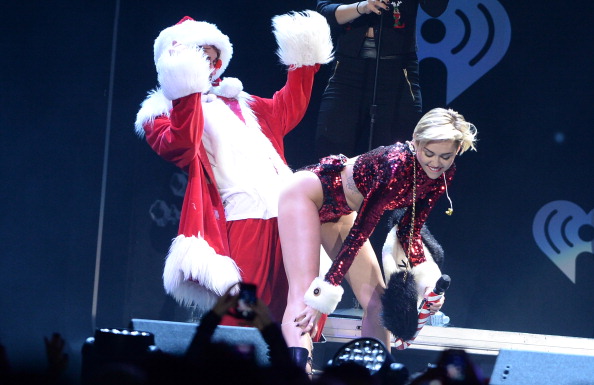 Maybe she's just too busy to sit on his lap properly. (pic via Getty)
The war on Christmas is over. On Friday evening at KIIS FM's Jingle Ball concert at the Staples Center, Miley Cyrus used her skills as a holiday assassin and trained her sights directly on Christmas's general, one Santa Claus, and took him out with an upraised buttocks right to the mid-section. Fox News is presently in mourning for their favorite holiday.
Here are pictures because if Miley Cyrus does something and there aren't pictures, do blogs make a sound?

As with Robin Thicke, the dude being twerked is way more gross than the one doing the twerking.
(pic via Getty)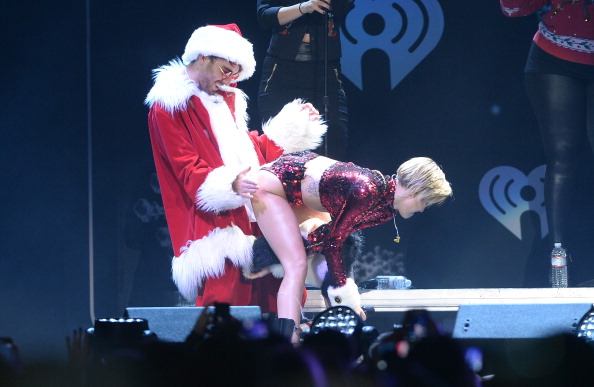 Both of them wondering what choices they made that brought them here.
(pic via Getty)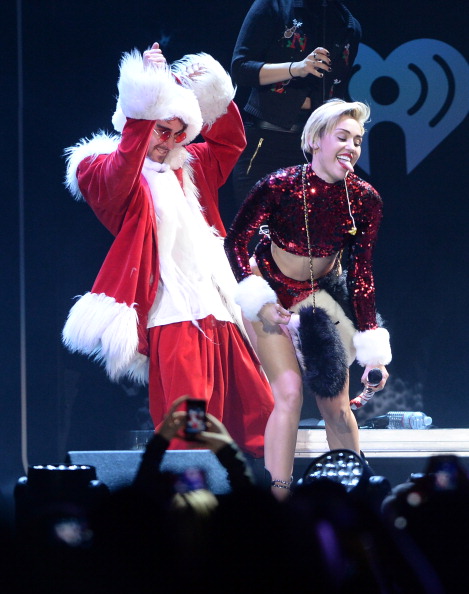 Still less offensive than "Do They Know It's Christmastime."
(pic via Getty)
To be fair, haven't we all kind of twerked Santa at one time or another? Sure, he's usually seated (drunk) and we have to climb up on his lap and do all the work, but a twerk is a twerk.
Anyway, enjoy the rest of your holiday season. If Miley twerks anything between now and sunrise, we will be sure to come by your house and shake you awake to make sure you get first look at this pics. Some things are more important than sleep.
(by Bob Powers)