If you start crying while watching this, you won't make it through the rest of the story.
After four years of dating, Lucas Bane decided to propose to his boyfriend David Devora. And he decided to do it via flash mob, complete with Step Up Step Up 2 star Briana Evigan and some other excellent dancers, a romantic appearance on a balcony, and Christmas lights that spelled out "Will U Marry Me." The adorable resulting video (above) went viral, as flash mob proposals are wont to do, and pretty soon it was all over the Internet.
One of the people who watched the video, who is being called "B" to protect his identity, contacted Lucas on Facebook. B knew Lucas way back in high school, and he worried Lucas wouldn't want to hear from him. B was kind of a bully back then. But he decided to reach out anyway.
Lucas was thrilled to hear from him. Here's their conversation on Facebook: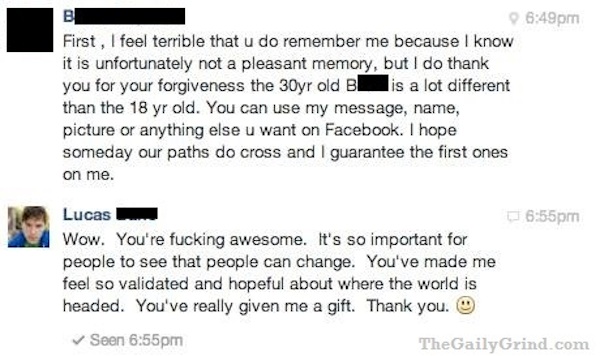 (images via TheGailyGrind)
Lucas was interviewed by the Gaily Grind about the experience of receiving a message from someone he never thought he'd hear from again. When asked if he felt closure, Lucas replied: "Absolutely. Like I said, he wasn't one of the worst, but to me his apology felt like it spoke for all the people who used to pick on me. Like there was a sad little boy inside me and somebody went up to him and said, 'Hey buddy. Don't worry anymore. We like you.'"
It's a sweet story, and hopefully it will inspire other people to reach out to people they bullied in the past and ask for forgiveness. Once they've stopped bawling, obvi.
(by Shira Rachel Danan)