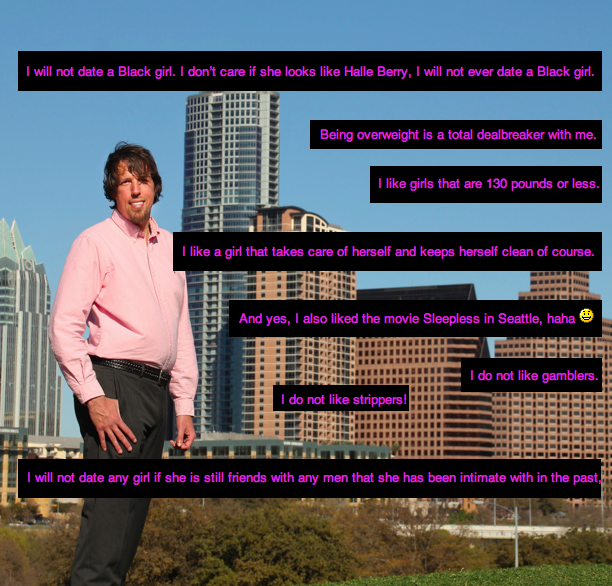 Larry Busby, spotted in the wild by some campers. (image & text from sleeplessinaustin.com)
Are you short on cash? Is there a woman you know who you want to have a terrible life with a terrible person? Then introduce her to Larry Busby, a resident of Austin who refuses to date black women, fat women, women with tattoos, women with piercings, women who are friends with their exes, women who gamble (like, on the horses?), and women who aren't "clean." It's all laid out on Sleepless In Austin, the website (here's a mirror of the site in case it crashed) Larry set up where he promises $1500 to anyone who'll find him a girlfriend who falls into that extremely narrow criteria. 
A little bit about Larry:
I am an Artist, Musician, Poet, Composer, Performer, Businessman, I am many things. I am very creative & artistic. I can be accurately described as being both a CEO & a Rockstar all at the same time, both of those perfectly existing in one person, Me. I am a very unique man. There is NOTHING typical, average, normal, or ordinary about me whatsoever!
And how! Larry is so atypical that only .0001% of the female population has the goods to date him! Here are some of his lady-friend criteria from his About The Girl I Want page:
I want the girl to be attractive.
I like girls that are thin, or with a toned or athletic build. A average build is fine too, just as long as you are not over weight. I will not date a overweight or fat girl.
I like girls that are 130 pounds or less. Of course weight needs to be in proportion to their height, as long as they aren't considred overweight, they should be fine.
Being overweight is a total dealbreaker with me.
When it comes to race, Larry does keep an open mind about every ethnicity but, um, one:
I will not date a Black girl. I don't care if she looks like Halle Berry, I will not ever date a Black girl.
However, I will date any other race, Hispanic, Mexican, Spanish, Russian, Italian, French, European, White, whatever, anything except Black.
As far as the lucky lady's romantic and sexual past, Larry prefers she kind of, sort of, not have one:
I do not like strippers! I will not date any girl that has ever been a stripper. I believe that the only person that should ever see a womans naked body is only her boyfriend or husband.
I will not date any girl that has ever had a threesome, or a large number of past sexual partners. I do not want a promiscuous slut, I want a normal, decent, good hearted girlfriend.
I will not date any girl that can not always be honest & faithful to me. This is very important.
I prefer a girl that does not smoke, but as long as she does not smoke in my house or around me, if she can go outside and smoke, then I can live with that. I lived with my ex girlfriend for Eleven years, and she was a smoker.
I will not date any girl if she is still friends with any men that she has been intimate with in the past, I believe once a relationship with someone is over, it's OVER.
ALL CAPS MEANS LARRY BUSBY PUTS HIS FOOT DOWN! If you know the non-black, non-tatted, under-130-pounder who'll protect her boyfriend's inferiority complex by pretending that every man she's ever allowed to dirty up her clean body no longer exists, you might be $1500 richer. Send her on to Larry Busby, and may God have mercy on her soul. Here's another pic!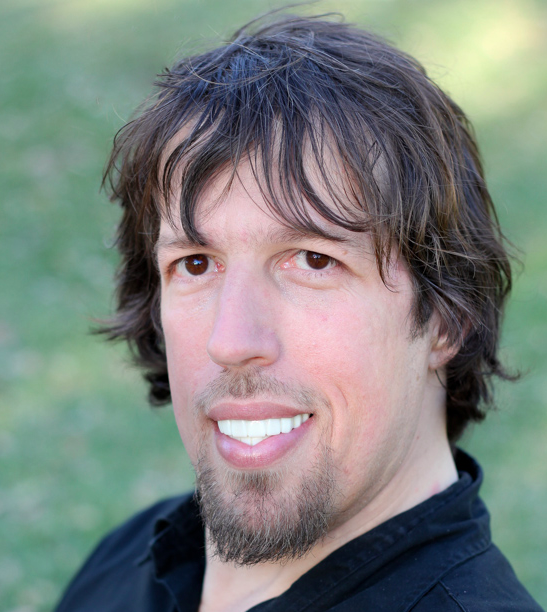 I want your body to weigh less than my veneers. (pic via sleeplessinaustin.com)