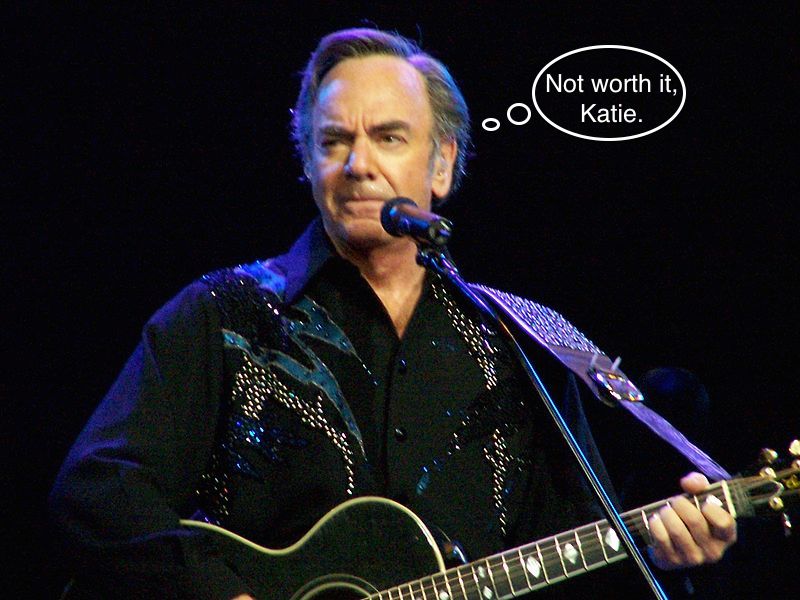 To be fair, Neil Diamond probably also thinks it's immoral to charge that much for his music.
(via Irisgerh) 
British person and cautionary tale Katie Bryan, a 43-year-old math teacher from Lighthorne, England, went to South Africa to visit her boyfriend's family. During a picnic filled with wine and music, someone played a Traveling Wilburys song. This, tragically, made Ms. Bryan want to listen to Neil Diamond (which I presume went like this: "Is Neil Diamond in that band?" "No, that's Neil Young." "Oh. I want to listen to Neil Diamond now").
"I don't know why," she told the Telegraph, "he's more my boyfriend's musical taste and I'm more of a James Blunt fan." Despite her lackluster enthusiasm, Katie actually already owned an Essential Neil Diamond CD back in England. Wanting to add her own contribution to the picnic music, however, she decided to purchase another copy on her phone. It was a tragic mistake.
Ms. Bryan's cell phone plan with Orange, a French telecom, allowed her 10MB of monthly foreign data downloading, after which she would be charged £8 a megabyte ($13.38 in US bucks). Her Neil Diamond album was 326MB. That is, to be clear, a £2608 ($4363) Neil Diamond album (normally $11.88) for someone who is more of a James Blunt person.
Naturally, she called customer service. At first, Orange was pretty helpful, with the employee who answered her call agreeing to reduce her entire bill to £400 by selling her a backdated data plan that would have let her download more while abroad.
Obviously, this person was yelled at by their boss for passing up such a tasty fee, because when she called back several more times, they told her that deal did not exist and was nowhere in her file, insisting she had to pay the entire amount. Clearly, that person got yelled at by their boss for putting the firm at risk of bad PR for the sake of a few thousand pounds sterling, because the executive office stepped in to re-offer the deal. She has since taken it.
That isn't to say that Katie Bryan is unaware of being an idiot. She's also learned some valuable lessons.
"You hear of people doing this and you think 'stupid person—why did you do that?' I do feel foollish. But I also feel it is morally wrong to be expected to pay this sort of money for a Neil Diamond album."
At least she'll have some fun new word problems for her math class when she gets back to school.
(by Johnny McNulty)