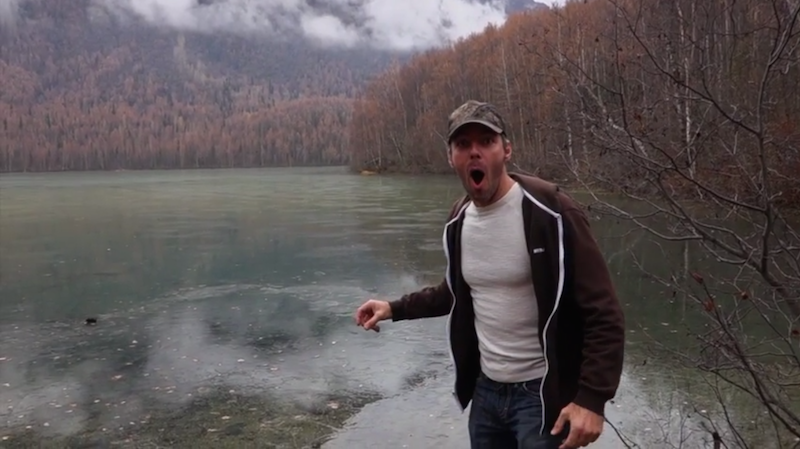 In case you were worried, no, the sound is not coming out of his mouth.
Well, "discovered" may not be the right word, but America just celebrated Columbus Day, so we clearly don't give a flying hoot about what "discovered" means. This is Cory Williams of Anchorage, Alaska, and he is an excited man. If you have access to a body of water and you live in a region that experiences winter, I highly recommend trying skipping stones across the ice. If you watch this with your eyes closed, you might think the sound was molten metal or molten glass being poured into cold water, or perhaps a high-tension wire being knocked around. It's not. It's just a pond. Except for the sound at 4:37. That is a much different sound entirely.
For your viewing pleasure, here is a gif of him reacting to his fart. 

This has led to him being compared to a fun dog, and also Andy from Parks and Rec.
If you recognize Cory, it's because he was known as Mr. Safety when he was one half of the now-defunct SMPFilms YouTube channel, which dissolved along with his romantic relationship to his costar, Kathleen Elliot, aka Katers17 (the channel survived his previous divorce from Stephanie Roby, aka SMPLady). The channel's biggest hit was inarguably "The Mean Kitty Song."
Everyone in the SMP 'verse seemed to drop off the map for a few years after that, but since he moved to Alaska, Cory now vlogs under the name DudeLikeHELLA. He certainly seems pretty happy now with his life of being excited by simple noises in the Alaskan wilderness. Sounds pretty good to me.
(by  Johnny McNulty)