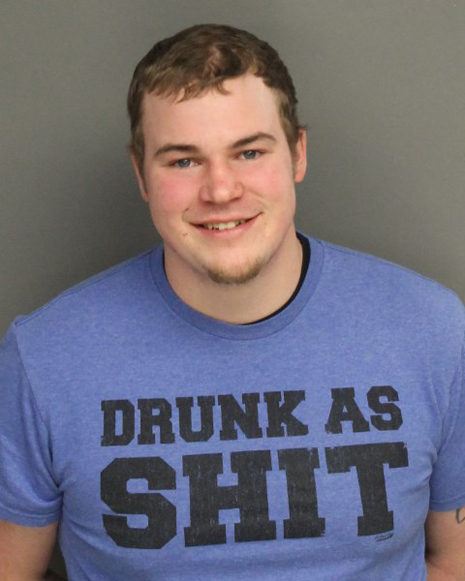 The prosecution rests. (Via)
A man arrested for DUI on Sunday made sure to confess to the crime before he even left the house. According to The Smoking Gun, 21-year-old Ross McMakin of Oregon was wearing a shirt that read "Drunk As Shit" when he was arrested and photographed in the above mug shot. 
McMakin was also accused of driving on a sidewalk, striking a parked car, and assaulting his girlfriend when she tried to take his keys away, but all that doesn't fit on a t-shirt so he decided to focus on the drunk part when making his wardrobe choice for the evening.
Seems stupid, but this actually saves tax dollars. Wearing your confession on your chest like this allows police to skip a costly trial and just get the perp started on his hopefully rigorous community service and rehab counseling.
McMakin reportedly told police he was driving because his girlfriend couldn't drive stick, or at least, that's what his "I have no idea what a Taxi is" t-shirt claimed.
This kind of "confession wear" has a long history in the world of drunken douchebag fashion.
(by Bob Powers)