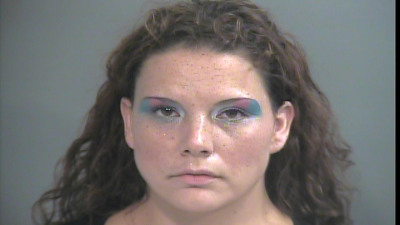 Her mouth said no, but her eyes said yes. (Via KFSM)
Before she was arrested, this woman was suspiciously hanging out in the shadows. The eye shadows section of a mall makeup store, that is.
KFSM reports that police received a call from the Ulta Cosmetics in Fayetteville, AR when the general manager noticed Brandy Allen, 31, shoveling $144 worth of eye shadows and liners into her purse. According to the report, Allen was "grabbing handfuls of make-up without looking at the color or labels. She didn't appear to be checking prices, either."
Of course she didn't care about the specifics. This woman is the Bob Ross of faces, using all the colors on her lids to create a majestic sunset backdrop.
When police approached Allen in the store, she quickly marked up the shoplifted items in her purse right in front of the cops to make it appear as though they had been previously purchased and used.
The radiant butterfly also was heard to have screamed, "No one fucking saw me steal anything."
But it was too late. As evidenced by her mugshot, she was caught red-handed. And purple-lidded.
Allen was brought into jail where she quickly bonded out. She faces charges of shoplifting and disorderly conduct.
(by Myka Fox)