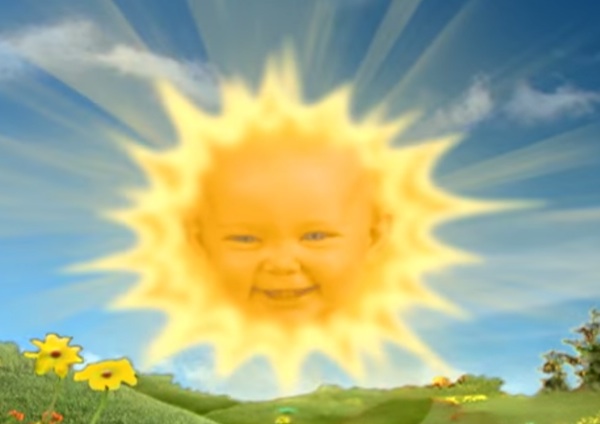 Thank you for answering our question, oh wise and benevolent baby sun. (BBC)

The mystery has tormented us for nearly 20 years. Conspiracy theories abound, and some even believe it is impossible to know the truth. But now, suddenly, we've been given an answer: we finally know who the baby in the Teletubbies sun was.
It turns out that smiley baby girl was Jess Smith, now a 19-year-old British college student. Smith decided to come clean about her role in the show because she just started attending university and wanted to be honest with her new friends. The news came out during a game where everyone was supposed to tell a secret to their neighbor, and undoubtedly it blew the other secrets out of the water. (Oh really? You once ate an entire large pizza? Well, Jess was THE SUN FROM TELETUBBIES.)
"I am the sun from Teletubbies," Smith told the Daily Mail, speaking in the short, declarative sentence you'd expect from a baby sun. Smith still looks a lot like she did as a nine month old (you can see photos of her over at the Daily Mail), and she says she hasn't changed much. "I still have a baby face...I am still giggly," she said.
Smith says she was paid just 250 pounds and a box of toys for the gig, and has received no royalties. But she's not resentful! After all, "no one knew how big the show was going to be."
So how big was it? Big enough that fully grown adults are still captivated by the identity of that little baby sun.