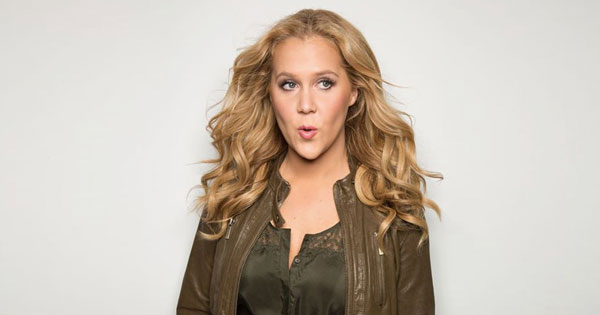 Pictured: Human female comedian, Amy Schumer. (via)
Now I hope this doesn't come off as too much of a brag for my gender, but dudes are pretty damn good at being awful when they put their minds to it. And very few dudes put their minds to being awful with as much gusto as dudes on the Internet.
So, when the trailer for Trainwreck—a movie written by and starring comedian/non-fashion-model Amy Schumer—landed on the Internet the other day, a lot of dudes did their thing and got to work bitching about how gross it is to make a movie about woman of normal-looking human dimensions who has sex with men without making sandwiches for them first.
I couldn't deal with the prospect of spending more than 45 seconds combing though YouTube comments, so here are just a few examples of their handiwork: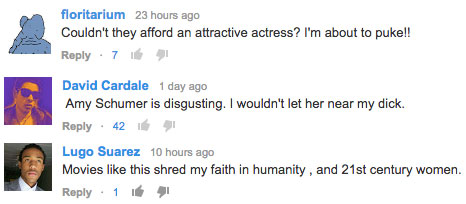 "But Dennis," you might say, "those are just random YouTube idiots. Surely, no mildly-reputable film critics would be shameless enough to title a post about the trailer something like 'Apatow's Funny-Chubby Community Has New Member." Well, you'd be surprised:
"She's obviously sharp and clever and funny as far as the woe-is-me, self-deprecating thing goes, but there's no way she'd be an object of heated romantic interest in the real world. And yet that's the apparent premise of Apatow's film." - Jeffrey Wells, Hollywood Elsewhere
What a good point! What a smart and clever guy! Can you even imagine someone in "the real world" harboring a romantic or sexual interest in a woman who looks like Amy Schumer?! What a preposterous notion! Not nearly as believable as most other romantic comedies.
Anyway, this is all just a super long way of introducing the fact that instead of being annoyed by online dummies, Amy Schumer decided to annoy them by posting a photo of herself in her underwear, along with a promise that she will not be changing to meet their standards anytime soon:
I am a size 6 and have no plans of changing. This is it. Stay on or get off. Kisses! pic.twitter.com/6IsEfFOwAD
— Amy Schumer (@amyschumer) February 12, 2015