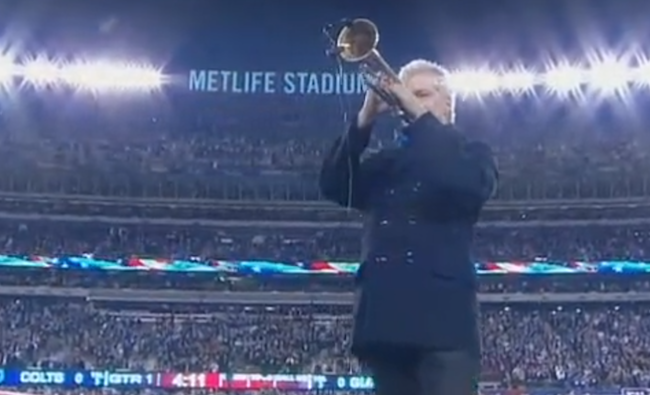 Are you ready for some weeping?
It's not unheard of for a grown man to cry at a football stadium. But when it happens, it's usually after a horrific injury or a gambling loss. Before the Giants played the Colts on Monday Night Football, jazz trumpeter Chris Botti played a version of the 'Star Spangled Banner' that was so moving, it sent chills through Metlife Stadium and brought tears to the eyes of at least one player.

this is very good by dm_520cd98243c9e
Right at the "Oh say does that star spangled banner" part of the song, the camera caught Colts wide receiver Reggie Wayne with a tear streaming down his cheek as he swayed side to side, visibly touched by the performance. While it's not exactly the pre-game "eye of the tiger" that NFL coaches are looking for from their players, it was a pretty sweet moment for an patriotic American.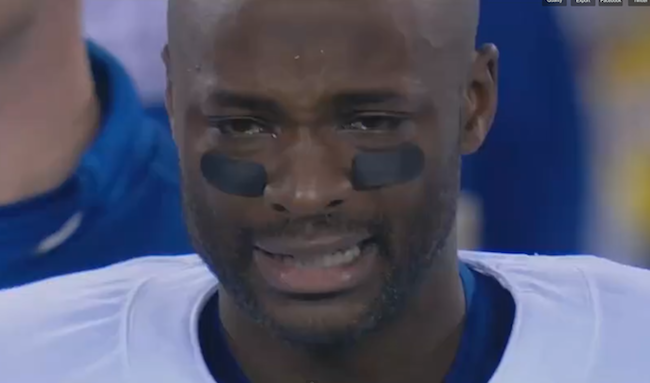 Touching the receiver.
Wayne's emotions didn't seem to affect his performance, as the six-time Pro Bowl player caught 4 passes for 70 yards and one touchdown. On top of that, his team won the game 40-24, which probably had thousands of Giants fans crying like babies.
(by Jonathan Corbett)