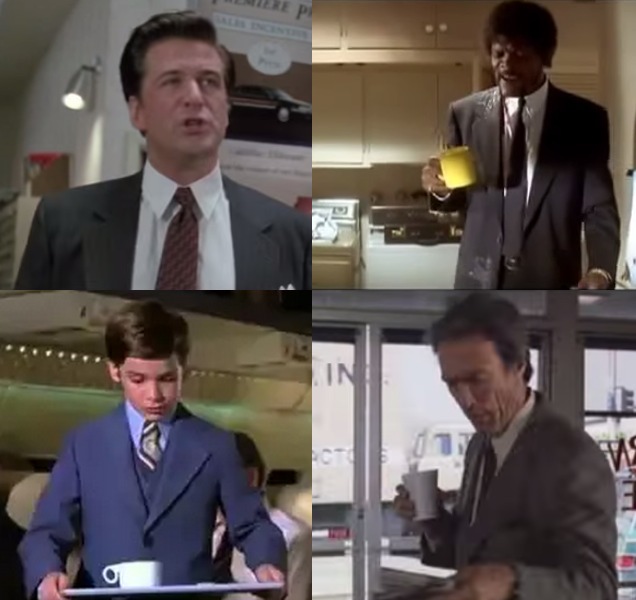 It's National Coffee Day, a fake holiday honoring a very real and very important natural resource. Coffee wakes us up and keeps us that way. It helps truck drivers move our consumer products from one part of the country to the other, and it gives us something to drink at AA meetings. Coffee makes us a happier populace and more efficient workforce, guaranteeing even more profits to the small cadre of mega-rich that pay us to do stuff until we die. 
In addition to all that, coffee has been the focus and inspiration of some of our greatest movie scenes. Here are ten such times at the movies when coffee really mattered.
1. When coffee was presented as a reward for good salesmen, not salesmen who are bad.
.
2. When a pot of scalding hot coffee helped a high school student foil a robbery and regain his footing in the workforce.
.
3. When an auteur did all he could to not sound wooden while talking about how much he likes coffee.
.
4. When the world's creepiest casting hobbyist really hated his cup of espresso.
.
5. When we learned how the young enjoy a cup of joe.
.
6. When we got a peek at one gumshoe's patented coffee making technique.
.
7. When we found out what "Venti" means while watching Paul Rudd try to come off as an ahole (not easy).
.
8. When Bill Murray drank it from the pot while hanging with the Wu.
.
9. When a terrible cup of coffee saved innocent lives.
.
10. And of course, when a cup of coffee was synonymous with triumph.
(by Bob Powers)