5. Ex-White House doctor Ronny Jackson, because he's out of a job.
Dr. Ronny became famous when he announced on national TV that President Trump's brain does indeed work. Back in January, he said that there is "no reason whatsoever to think that the president has any issues whatsoever with his thought process." He also gushed over Trump's superior genes, and threatened that he might live to be 200 years old.
REPORTER: How does a guy who eats McDonald's & all those Diet Cokes & never exercises be in as good of shape as you say he is?

PHYSICIAN: It's called genetics... he has incredible genes... I told him if he had a healthier diet over last 20 years he might live to be 200 years old pic.twitter.com/6zAPFioQ4D

— Aaron Rupar (@atrupar) January 16, 2018
Likely because of that gushing performance, Trump hastily nominated Dr. Jackson to run the Department of Veterans Affairs, without being fully vetted or experience running a big-ass federal bureaucracy.
Jackson withdrew his own nomination when a report alleged that he gave out painkillers like candy and once drunkenly crashed a government car. People allegedly called him "candy man," and not because he mixes it with love and makes the world taste good.
According to Politico, Jackson won't have his new job, and he also won't have his old job as well and is officially out as White House doctor.
Hopefully Trump and Jackson can patch things up by the time Trump turns 200.
---
4. The White House Correspondents' Association, because they're now hated by both Trumpists and #TheResistance.
This weekend, the journalists and self-proclaimed "truth-tellers" clutched their pearls and yelped in agony when comedian Michelle Wolf did a better job holding Sarah Huckabee Sanders responsible for her lies than they do.
Media figures pooped their pants over Wolf's jokes about the press secretary, insisting that the delicate flower should be spared ridicule because she's a mother, and projecting onto the jokes the fact that they think Huckabee Sanders is ugly (Watch the video: Wolf did NOT bring up Huckababy's looks).
If you ask me, the real source of the media's ire is likely the fact that Wolf came for them:
You guys are obsessed with Trump. Did you used to date him? Because you pretend like you hate him, but I think you love him. I think what no one in this room wants to admit is that Trump has helped all of you. He couldn't sell steaks or vodka or water or college or ties or Eric. But he has helped you. He's helped you sell your papers and your books and your TV. You helped create this monster, and now you're profiting off of him. And if you're going to profit off of Trump, you should at least give him some money, because he doesn't have any.
The White House Correspondents' Association humiliated themselves by officially disavowing Wolf's jokes, insisting that bold comedy speaking truth to power is antithetical to their "mission" of celebrating the First Amendment.
Twitter roasted the WHCA for how lame a thing that was to do.
So the press, which Trump calls "an enemy of the American people," has successfully enraged the people who stand with them as the first and last line of defense of democracy.
Good job!
---
3. Nazi Richard Spencer, because he needs your money.
Nazi Richard Spencer, who preaches such Nazi ideals as the virtues of a white ethno-state, is facing a federal lawsuit for his role in last year's deadly "Unite the Right" rally in Charlottesville.
Spencer, of being punched in the face fame, is begging for $25,000 to help him mount his legal defense, and had a real hard time finding a lawyer who wants to defend white supremacy.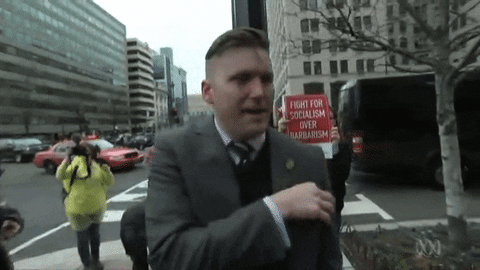 "Hi, everyone, this is Richard Spencer. I am under attack and I need your help. Some of the biggest and baddest law firms in the United States are suing me, along with some other prominent figures, in civil court," he said in a video called—wait for it—"I Need Your Help."
Nazi Richard Spencer has been banned from Facebook and 26 European countries for spreading hate, which no longer pays the bills.
It ain't easy being a Nazi.
---
2. R. Kelly, because his time is up.
The women of color committee in the Time's Up movement launched a campaign today calling on corporations with ties to R. Kelly.
In a statement on The Root, Women of Color of Times up detailed the singers decades of crimes:
Over the past 25 years, R. Kelly has:
Married a girl under 18 years of age;
Was sued by at least four women for sexual misconduct, statutory rape, aggravated assault, unlawful restraint and furnishing illegal drugs to a minor;
Was indicted on 21 counts of child pornography;
Has faced allegations of sexual abuse and imprisonment of women under threats of violence and familial harm;
The #MuteRKelly campaign implores the public to stop listening to his music, and for streaming services and venues to stop enabling his career.
The hashtag quickly started trending, and celebrities are pledging their support.
Farewell, R. Kelly. Finally.
---
1. Donald Trump, because he's getting sued again.
Over the past three decades, President Trump has been embroiled in 4,095 lawsuits, and as of today, make that 4,096.
Stormy Daniels is joining Trump accuser Summer Zervos in filing a defamation suit against the president, citing his tweets.
Specifically, this tweet.
As a result of Trump's tweeting out Stormy slams to the entire world from his presidential pedestal, she has "been exposed to death threats and other threats of physical violence, causing her both emotional and economic damages."
According to the lawsuit, Stormy has suffered damages that have exceeded $75,000.
Buckle up!