5. Donald Trump, because he got played by Vladimir Putin and he probably doesn't even realize it.
Oh, you thought that the President of the United States was going to side with the American intelligence agencies that concluded that Russia interfered with the 2016 election when Vladimir Putin denied it? That's cute.
Today in Helsinki, Finland, President Donald Trump met privately with Russian president Vladimir Putin for two hours before hosting a press conference. Trump stood next to the former KGB agent and smiled as he blew anti-Semitic dog whistles, and the dude supposedly representing the United States accepted the Russian dictator's denials when his own Justice Department says otherwise.
He might have thrown American law enforcement agencies under the bus, but at least he stands for the national anthem!
The overwhelming conclusion from people who prefer America to Trumpistan was that it's a sad day for the superpower.
.@SenJohnMcCain: "Today's press conference in Helsinki was one of the most disgraceful performances by an American president in memory. The damage inflicted by President Trump's naiveté, egotism, false equivalence, and sympathy for autocrats is difficult to calculate." pic.twitter.com/JWMdvAaSXg

— Sahil Kapur (@sahilkapur) July 16, 2018
Even Fox News was disgusted. FOX NEWS!!!
Even if Republicans in Congress don't care that the president appears to be a Russian asset, history might.
---
4. Meghan Markle, because her dad can't stop begging for attention.
Meghan Markle is living a good life.
She's newly married, deeply in love, and is a goddamn Duchess—but sadly, all the money in the world can't spare her from having an annoying dad.
Thomas Markle famously didn't make the Royal Wedding because of a heart attack the fallout from the fact that he staged and sold photos of himself getting ready. Now Mr. Markle is begging for access to his princess via British tabloids.
In an interview with The Sun, Markle is insisting that Meghan is miserable and is begging her for access to her fancy life.
"My thing about my daughter right now is that I think she is terrified. I see it in her eyes, I see it in her face and I see it in her smile," he told The Sun. "I've seen her smile for years. I know her smile. I don't like the one I'm seeing now."
Markle is begging his daughter to call him.
"The phone number I call... it doesn't work anymore. There's no address I can write to... I have no way of contacting [her]," he said, which is presumably why he's talking to a tabloid.
"I had a heart attack, doesn't anybody care? I could actually die soon. Does she want this to be the last thing we've said to each other? It is probably the longest time I have gone without speaking to her ever."
Okay, that one's just really sad.
Who would have thought that the Royals would be the less dysfunctional family?
Speaking of the Royals, look at this cute picture.
The institution may be deeply f*cked up and incompatible with the 21st century but OMG LOOK AT PRINCESS CHARLOTTE SQUEEZING BABY PRINCE LOUIS' HAND!!!
---
3. The Republican gun nuts who got played by Sacha Baron Cohen (and his prosthetic face).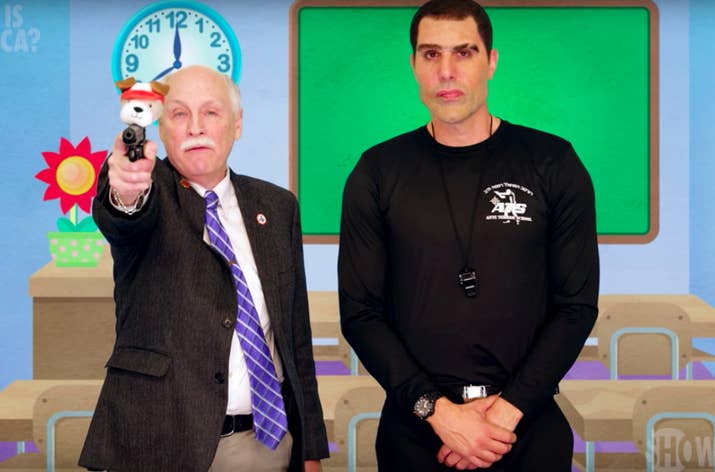 He's back!
Last night was the premiere of Who is America?, Sacha Baron Cohen's surprise new show in which he reveals the fault lines of the polarized American discourse...who am I kidding we tune in to see people look stupid on camera!
And look stupid they did.
While Senator Bernie Sanders was duped into sitting down with Baron Cohen's character Billy Wayne Ruddick Jr., Ph.D., he maintained his integrity and didn't find himself endorsing insane programs.
Republican Members of Congress, however, found themselves endorsing a program called "Kinderguardians," which provides children over the age of three with "pistols, rifles, semi-automatics, and a rudimentary knowledge of mortars."
Primed by their total fealty to the National Rifle Association—logic be damned—Republicans on camera endorsed Baron Cohen's character's program to arm pre-schoolers, taking the NRA's arming teachers agenda to its natural extreme.
Barn Cohen's Israeli character, Erran Morad, pitched the program to Representive Matt Gaetz, who said, "Typically members of Congress don't just hear a story about a program and then indicate whether they support it or not."
That's exactly what they did.
Representative Dana Rohrabacher, Representative Joe Wilson, former senator Trent Lott, and former congressman Joe Walsh were ALL IN on Kinderguardians, with Walsh reading, "In less than a month, a first-grader can become a first-grenader."
Watch the full clip here. Like a pre-schooler with a rifle, it'll blow your mind.
---
2. Elon Musk, because he spent his weekend calling the guy who rescued the Thai soccer team from the cave a pedophile and might get sued for it.
While the world celebrated the successful rescue of 12 Thai boys who got trapped deep inside a cave, Extremely Online billionaire Elon Musk was pissed that he didn't get to be a part of it.
Rather than rejoice over the fact that the kids were freed, union buster extraordinaire Musk tried to make the news cycle about himself, insisting that a "kid-size submarine" could have saved the boys, because don't you dare forget about him for five minutes.
British diver and Thai cave expert Vern Unsworth, who was actually involved in the rescue, called Musk's mini submarine a "PR stunt" that had "absolutely no chance of working," because Musk and crew "had no conception of what the cave passage was like."
Rather than take a step back and applaud the guy for saving children, Musk decided to accuse Unsworth of being attracted to them.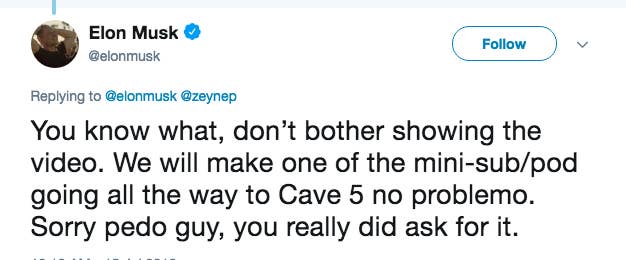 Um, people pointed out that it's not cool to just call someone "pedo guy," so Musk decided to double down.

He ultimately deleted the tweets, but not before people took screenshots, and the accused "pedo guy" said he was considering taking legal action. And his company is taking a hit, too.
Musk tweeting out vitriol and throwing around immature insults dovetails nicely with the other news of the weekend: that he's a top donor to a Republican PAC.
Congratulations to the diver, because like the Republican party, he's gonna score some of Elon Musk's money.
---
1. The Louisiana couple arrested for banging in a courthouse stairwell, because it's not a happy ending.
Conveniently already in a courthouse when they decided to commit the crime of obscenity, 20-year-old Miguel Glorioso and 19-year-old Jamie Lee Coutee were arrested for getting their freak on in a stairwell at 10:20 in the morning.
The Associated Press reports that a courthouse employee "investigating a report of a commotion" walked in on the couple, who were just enjoying their version of a conjugal visit. The guy is an inmate serving time for drug charges, who was tasked with cleaning the courthouse that day. The dude was sent back to jail and the dudette is out on a $1,500 bond.
But the real bond is between the two of them.
I'll see myself out.