5. Trump's lawyer Michael Cohen, because the Stormy 60 Minutes sure suggested that he broke the law.
Michael "Says Who?" Cohen, President Donald Trump's personal lawyer and wannabe Olivia Pope, was the guy who paid Stormy Daniels $130,000 a month before the 2016 election.
Last night, for the first time, 60 Minutes engaged a crowd of people under 60 years old by airing an interview with adult film auteur, and while the report thankfully did not describe the president's penis, it did outline just how much legal danger Cohen is in.
Stormy and her lawyer Michael Avenatti (who happens to be very handsome, but I digress), recounted the six-figure payment and non-disclosure agreement Cohen arranged to keep Stormy silent about the affair. According to former chairman of the Federal Election Committee Trevor Potter, this was an illegal campaign contribution.
"It's a $130,000 in-kind contribution by Cohen to the Trump campaign, which is about $126,500 above what he's allowed to give. And if he does this on behalf of his client, the candidate, that is a coordinated, illegal, in-kind contribution by Cohen for the purpose of influencing the election, of benefiting the candidate by keeping this secret," said Potter.
Potter also mentioned that this shady activity could be of interest to Special Counsel Robert Mueller—who could maybe get Cohen to flip on Trump by guaranteeing that the Justice Department won't prosecute his campaign finance crime.
In that case, it's also a Bad Monday for Trump.
---
4. Marco Rubio, because he continued to get owned for being owned by the NRA.
This past Saturday, millions of people (millions!!!) around the world joined the March for Our Lives, calling on U.S. lawmakers to enact sensible gun control legislation to prevent mass shootings.
In speeches, signs, and symbols, many Parkland students addressed their senator, Marco Rubio, directly.
Throughout his career, Rubio has reportedly received a whopping $3,303,355 from the National Rifle Association. According to the March for Our lives, there are 3,140,167 students in the state of Florida, which amounts to a "price tag" of $1.05 that each student is worth to the Republican when he prioritizes the NRA's contributions.
The price tags become features of the protests nationwide.
Rubio's tweets on Saturday hardly refuted the argument the perception that he's owned by the NRA.
"I respect their views and recognize that many Americans support certain gun bans," Rubio said in a statement. "However, many other Americans do not support a gun ban. They too want to prevent mass shootings, but view banning guns as an infringement on the Second Amendment rights of law abiding citizens that ultimately will not prevent these tragedies."
People thought he deliberately misrepresented the purposes of the march to make the kids seem extreme.
The majority are out there marching for common sense gun reform and gun control, not an all out ban. Stop twisting the purpose to try and smear the march.

— Alisha✌🏼 (@Frialish) March 24, 2018
This is not about banning guns. How can we trust you if you have no idea what's going on?

— jeremy stout (@73stout) March 24, 2018
You have decided to ignore a death problem to appease a special interest group while claiming "Constitution" based on an amendment to prevent British soldiers from overtaking a colonial militia.

— Bess Kalb (@bessbell) March 24, 2018
Rubio also got burned by signs and memes.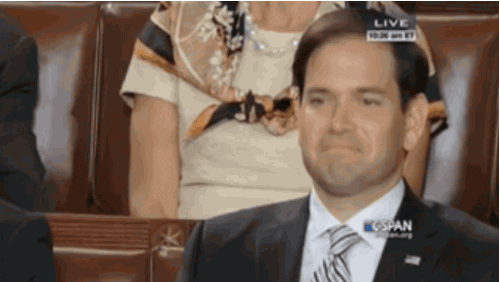 ---
3. Mark Zuckerberg, because Facebook is being investigated by the Federal Trade Commission and it's bad for business.
Welp! According to The Washington Post, the Federal Election Commission confirmed today that they are investigating Facebook after it was revealed that a data analysis firm used by the Trump campaign "improperly accessed the names, 'likes' and other personal information from at least 30 million users on the social site."
The announcement immediately sent Facebook shares a-tumblin' down more than six percent.
Lucky for Facebook, they likely have the personal data of the people investigating them, so prepare to be blackmailed, FTC.
---
2. The fired waiter who says he's not rude, he's just French.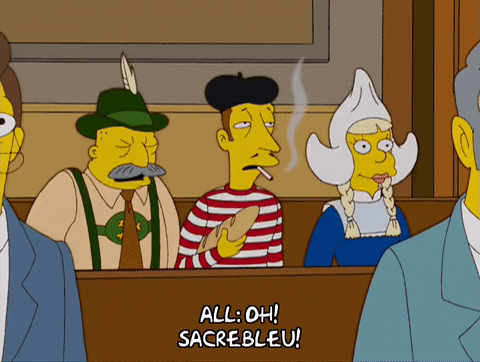 Guillaume Rey, a waiter in Vancouver, has filed a complaint with British Columbia's Human Rights Tribunal against his former restaurant, alleging "discrimination against my culture."
RTÉ News reports that Monsieur Rey was fired for being "aggressive, rude and disrespectful," and he's arguing that as a Frenchman, he simply "tends to be more direct and expressive."
The restaurant argues that Rey was warned and given an explanation about his behavior, but nevertheless, he persisted. They attempted to have the complaint dismissed, but tribunal member Devyn Cousineau denied the application.
"Mr Rey will have to explain what it is about his French heritage that would result in behaviour that people misinterpret as a violation of workplace standards of acceptable conduct," she wrote in the decision.
Pardon my French, but this is f**king nuts.
---
1. Kim Kardashian, because she got caught photoshopping.
Oops! Kim Kardashian West got caught curving her curves via Photoshop when a squished car appeared in the back of her photo.
The Instagram was meant to draw attention to the March for Our Lives, which wouldn't necessitate a particularly sexy hourglass figure, but I guess a Kardashian photo isn't a Kardashian photo if it doesn't feature unattainable proportions.
Posting on Instagram is literally your job, my dude. Be sure to check the background for any spaceships next time you post.