Mike Pence's attempt to honor women on International Women's Day went just as well as his attempt to eat with one.
The Vice President jumped in on the trending topic, and people felt that a celebration of women by a man who can't even dine with one unless his wife chaperones him was less than authentic.
"The Trump Admin will continue to strive to empower women?" They certainly have gotten women to mobilize, but likely not in the direction they like.
Pence calling his wife "Mother" is not even the most regressive of his views on women. As governor of Indiana, he made a whole bunch of disastrous decisions about women's health, including signing a bill that mandated burials or cremation for miscarriages and fetal remains. Saying he is anti-choice is an understatement, and women being denied the right to make choices about their health is far from empowering.
People were indeed empowered to call bullsh*t on the tweet.
Good grief, you don't mean any of this. You don't even trust women to make their own health choices. You want to impose your preferences on their bodies and futures. Save the platitudes, we know you don't really want empowered women.

— PCFinTX (@PCF879095) March 8, 2018
Oh so you'll support women's rights as long as they're not gay or exercising their right over their own bodies right? What about immigrant women?

— Hannah Grieve (@Hannah_Grieve) March 9, 2018
Did "Mommy" help you write this? Based on your record as Indiana's governor, you don't believe a word of it, anyhow. #Hypocrisy

— John Pierce (@de_foole) March 9, 2018
As long as you stay in your place and have babies and do as you're told. 🤢🤮🤪

— Diddy (@NCISLAgal) March 8, 2018
While Pence acts all pious, people haven't forgotten who his boss is.
Does Mother know you work for a serial philanderer and groper who brags about committing sexual assault, has been credibly accused of it 19 times, and is currently embroiled in a lawsuit from a woman with whom he committed adultery? https://t.co/7PEggVzeHC

— Kat 4 Obama (@Kat4Obama) March 8, 2018
A tweet about how women hate the VP got way more like that the O.G. message.
Oh, and Stanford from Sex and the City chimed in!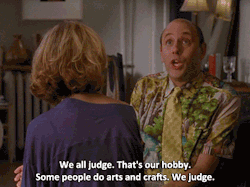 So, yeah, Veepster. It's not enough to tweet about women once a year. You actually gotta put your policies where your tweets are.