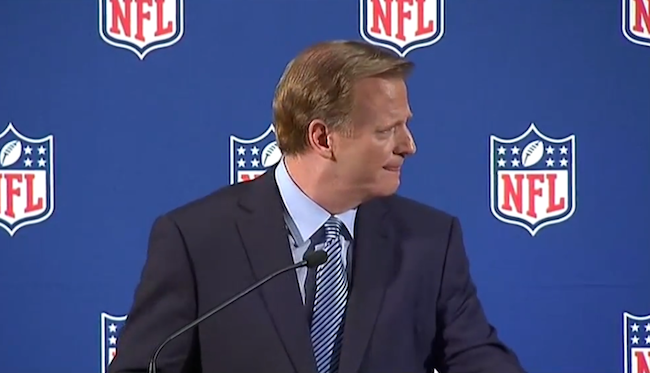 Are you ready for some goofball? (via)
Being a Rodger Goodell press conference, I doubt anyone was expecting much in the way of excitement. He's not famous for his charm and wit. Lately, he's been mostly famous for constantly trying to cover his ass as it gets closer to the frying pan over the NFL's ongoing problems with domestic violence.
So spotting Benjy Bronk from the Howard Stern show was probably a welcome sight to most of the reporters gathered in the room to hear Goodell blather about why he should be able to keep his job.
Benjy has been one of Howard's writers and on-air personalities for years. He's mostly famous for being yelled at whenever he screws up or does something especially weird. But another thing he's known for is committing to a bit as if his life depended on it, which is what he did today. 
For anyone not familiar with the Stern Show, it probably seemed like a potentially dangerous lunatic somehow got into the press conference. But fans of Howard knew right away that it was Benjy, a mostly harmless lunatic.
It sounds like he was there to get in a few questions before being spotted by someone as a potential troublemaker. He yells "What are you doing? I'm Benji!" as a large dude grabs him and begins dragging him out. That's when he started screaming "Don't put me in the elevator!" Which turned out to be the most memorable line from the entire event.
(by Jonathan Corbett)