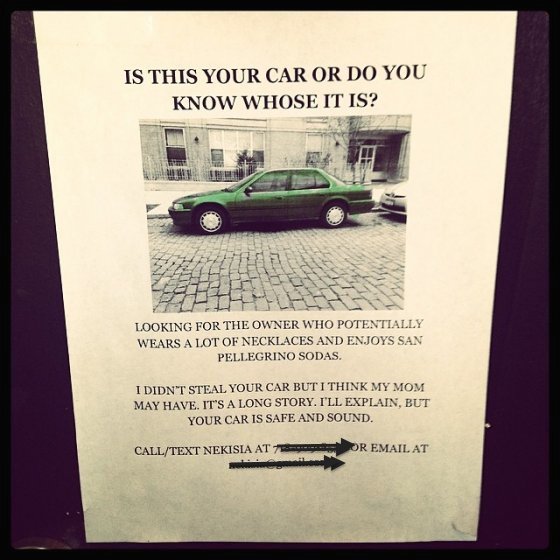 Grand Theft Auto 6: Nekisia's Mom. (via)
A Brooklyn woman named Nekisia Davis was traveling to Florida with two of her friends and needed someone to watch her Pomeranian, so she flew her mother up to NYC to to help out. In addition to dog-sitting duties, mom was in charge of re-parking three cars belonging to the women, because owning a ride in NYC means every couple days you have to play musical cars to avoid getting ticketed.
When the ladies arrived at their destination, Nekisia got a text from her mother saying that all the cars had been successfully moved. Turns out, mom was close. Because she did move two cars correctly, but accidentally stole a green Honda belonging to a total stranger.
When the group returned from Florida, one of them couldn't find her car because it wasn't where it was supposed to be. Pretty soon they realized that not only had mom chosen the wrong green Honda to move, but some Honda keys will work in other vehicles because... because... Why the hell would that happen? Isn't that something every Honda owner should be aware of? This is Brooklyn - people get shot for driving off with someone else's car. Even a mid-nineties green Honda.
The situation was so odd that when Davis called the police for help, they didn't believe her and, according to Davis, didn't seem to care much. That's when Davis started posting the fliers around the neighborhood, looking for a Honda owner "who potentially wears a lot of necklaces and enjoys San Pellegrino sodas," to let them know that "I didn't steal your car but I think my mom may have."
Police eventually figured out that a vehicle reported stolen matched the one Davis had told them about, and say the car is being returned to its very confused owner.
(by Jonathan Corbett)