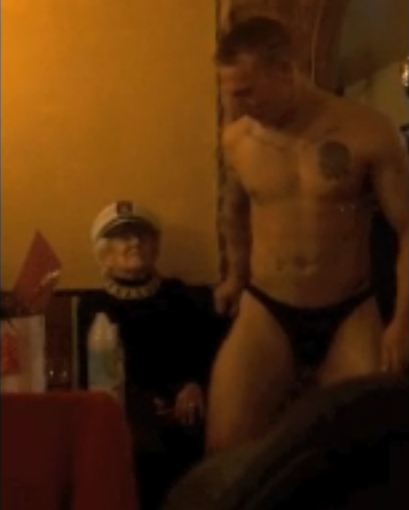 Doris enjoying some birthday beefcake.
If you happen to be feeling old and tired today, prepare yourself to feel just a little worse when you learn there's a 100 year old great grandmother in England who still parties harder than you. Doris Deahardie decided to celebrate hitting the century mark by hiring a young stud to shake his money maker in her face while her friends and family watched.
I'm pretty sure that even Charlie Sheen has his sons leave the room when the stripper shows up, but not Doris, whose daughter-in-law said she demanded the "Full Monty." Not only that, Doris even brought her own baby oil and whipped cream for the stripper to lick off her face. That's pretty hardcore when you consider that most people her age can't handle whipped cream on their pie.