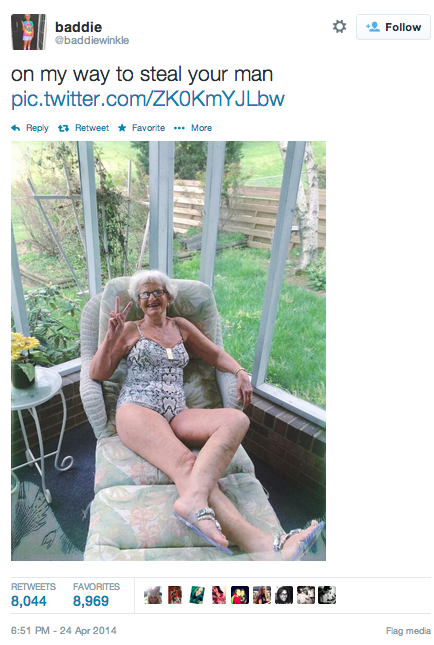 One minute your man is helping her across the street, the next he's jumping on her Rascal
and slowly rolling off into the sunset. (via @baddiewinkle)
Meet Baddie Winkle, an 86-year-old great-grandmother who is easily the best thing to come out of social media in 2014. She only started her Twitter account on April 5 (and Instagram on April 10), but with a little help from her 7 grandchildren she's already attracted 163,000 followers who wish they could be adopted into her family. Both she and her relatives have made it clear that the account is, indeed, her own, and that she is as badass as she seems. She loves pop culture and her favorite celebrities are Ellen DeGeneres (she would really like to go on her show), Justin Bieber, Katy Perry, Charlie Sheen, Blake Shelton and Beyonce (I think Beyonce would feel the same way). They may not be the hippest celeb names for an 18-year-old, but for 86, that's cutting-edge. Her goals in life are to go skydiving with her granddaughter Kennedy, to get a new Nissan and foster world peace. I hope when I'm her age, I'm even 10% as cool (and hopefuly at least 50% as alive).