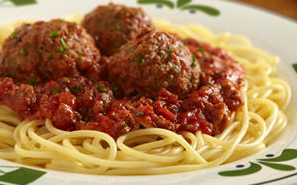 "When you're here, you're the size of a family." (Via Olive Garden)
It's happening. Olive Garden is taking its famous "Never Ending Pasta Bowl," which usually ends the second you heft yourself up from the table, and they're making it never-ending-er. Starting today at 3pm, they will be offering the "Never Ending Pasta Pass," a $100 pass that entitles you to unlimited pasta, breadsticks, and soda for seven uninterrupted weeks starting September 22nd. That's 49 gluttonous days of gluten.
If you went to the Times Square location in NYC and ordered their $15.49 spaghetti and meatballs for breakfast, lunch, and dinner, after 7 weeks you would have spent $2,277.03. If pasta dollars were a real currency, with the pass you'd be ahead $325 in pasta dollars a week! You can't afford not to buy that pass!
Of course, if everyone took advantage of this deal, Olive Garden would be moving into your home and selling olive pits on the side of the road by the end of the first week, so they've limited the promotion to only the first 1,000 people to take advantage of this offer. THAT'S WHY YOU HAVE TO GO BUY IT NOW!
GO! 
You're still here? Who are you, Rockefeller?
(by Myka Fox)