This is what you do when you've been snubbed for an Oscar nomination everyone thought you'd get.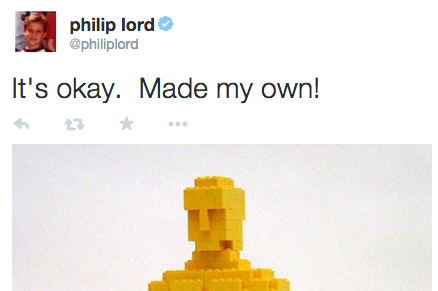 I heard they weren't nominated because the real Oscars are made by Playskool.
The LEGO Movie was one of the few universally liked films of 2014. Many people, it turns out, are really mad that it was not nominated for Best Animated Feature. I mean, people are really, really mad. Not director Philip Lord, however. Philip Lord doesn't get mad. Philip Lord gets crafty.
It's okay. Made my own! pic.twitter.com/kgyu1GRHGR
— philip lord (@philiplord) January 15, 2015
Who was nominated? Big Hero 6, The Boxtrolls, How to Train Your Dragon 2, Song of the Sea, and The Tale of Princess Kaguya. If you've seen all of those, I either wish you congratulations on being a great parent or condolences on being a very lonely adult.
EVERYTHING SUCKS.
It wasn't 100% snubbed. "Everything Is Awesome" was nominated for Best Original Song, but who gives a crap about music? These are MOVIES we're talking about. Clearly, for the viewing public, nominating the song wasn't enough.
#EverythingIsAwkward pic.twitter.com/898AOwKHTb
— Empire Magazine (@empiremagazine) January 15, 2015
It doesn't help the #OscarsSoWhite problem that not even characters with the same hue as The Simpsons can get a nod. That being said, is there any way a reasonable person can think it's OK that The LEGO Movie didn't get nominated for Best Animated Feature?
I understand that the Lego Movie was good, but it's still a story about licensing rights come to life. #Oscars2015
— Johnny McNulty (@JohnnyMcNulty) January 15, 2015
Jeez, who is that numbskull? Ignore him. The LEGO Movie totally deserves all the Oscars.