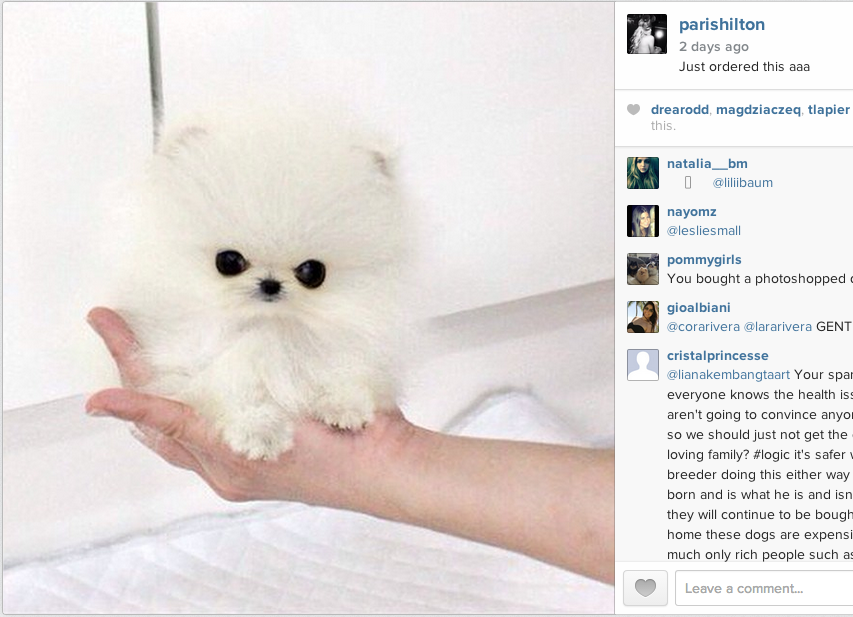 "I just ordered this aaa" - Paris "dogs are accessories" Hilton (Via)
Hey trend-followers, check out the latest Paris Hilton-approved accessory: Mr. Amazing. It is a "micro tiny little boy" Pomeranian, it weighs 10 ounces, and it is a must-have on Hilton's this-list. 
According to her Instagram account, Paris "just ordered this aaa" from Betty's Teacup Yorkies (name change pending due to expansion into other breeds), and it cost her a teeny tiny $13K. 
That's it? For a living, breathing toy? I have to have one!
According to their page, Betty's will ship anywhere in the world with their nanny service (I don't know), so I called up to ask if they had any more Mr. Amazings in stock. 
I spoke with JoAnne, who said they were all sold out of Mr. Amazings. Apparently, they only had one in stock because living things are "unique, and cannot be mass-produced," and I was told Miss Hilton had already snatched it up. Instead, I was invited to join their micro-Pomeranian waiting list.
If I was willing to settle for a female (gross) that didn't have a "triple white ice coat" like Mr. Amazing (triple gross), then I could be second in line for a toy (real dog) as soon as my $1,000 deposit cleared.

"I love him! Cutest thing on Earth! Love my new baby!"
No! I don't want some knock-off micro-pom. I want Mr. Amazing! Paris has declared him to be the cutest thing on Earth. Am I supposed to settle for second cutest? For a starting price of $5,500, I want a thing that Betty's describes as having "the flattest bear face ever!!!"

The face on this is so flat and bear faced.
Screw you, Paris. How could you introduce this to the world and then take the only good one? Do you know that JoAnne at Betty's offered me one that was "parti-colored"? It sounds fun like a party but it actually means that the dog could have some brown fur too. Gross. I might as well adopt a rat out of a sewer.
Just gross. 
(by Myka Fox)