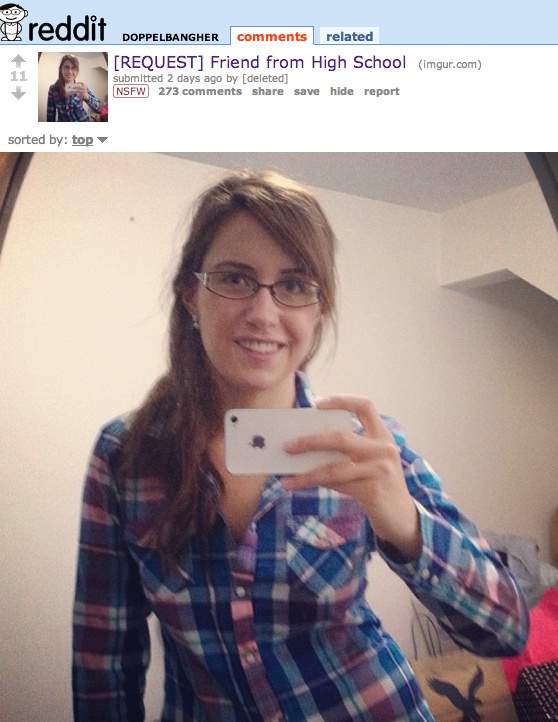 For God's sake just type the words "librarian" and "naughty" into Google.
Teenagers are lazy and they're getting lazier and this story proves it once and for all. Someone on Reddit (a teenage boy, we'll assume, because otherwise this is way grosser) posted the above photo in the sub-reddit "Doppelbangher," which is where classy people go when they want help finding a porn actress who looks like a non-porn actress, usually someone they know. So basically, pervs with no imagination are posting photos of women in their lives without their permission and saying, "Help me masturbate to this, Internet!" 
In a delightful twist, the girl in the photo discovered she'd been "Doppelbangher'd" — side-note: maybe a nice, cleansing North Korean nuclear assault isn't such a bad idea — and she decided to help him out with the photo below: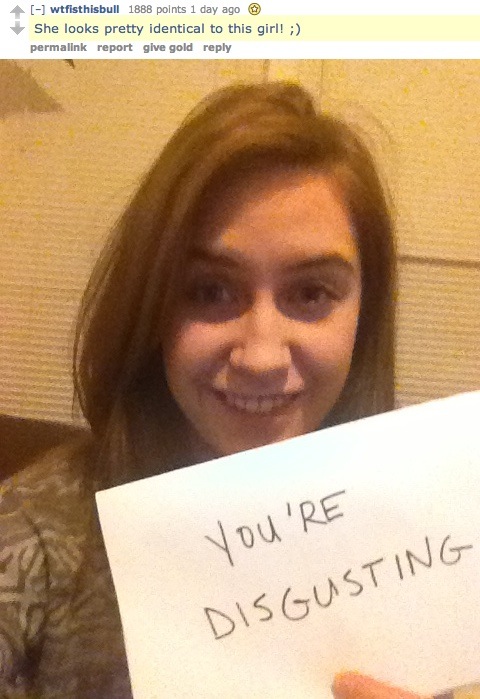 Wasn't up for debate, but yeah, he is. 
Not clear if the OP who posted the photo has been identified so that these two could fall in love and have the most repulsive meet-cute story ever. What is clear is that teenage boys have no idea how easy they have it. As recently as fifteen years ago, masturbating to your classmates required the use of your imagination, your memory, your attention to detail. There wasn't even Facebook back then. You had to stare across the cafeteria and do your best to store the image of your crush eating a sloppy joe into your memory, then wait the hours of classtime until you could run home and try to make it work for you. Now, even Facebook isn't enough for these kids. They're demanding porn simulations of their crushes? That's just laziness. We're never going to regain our footing as the economic leader of the free world if unimaginative pervs like this kid are the future. Shut it down.