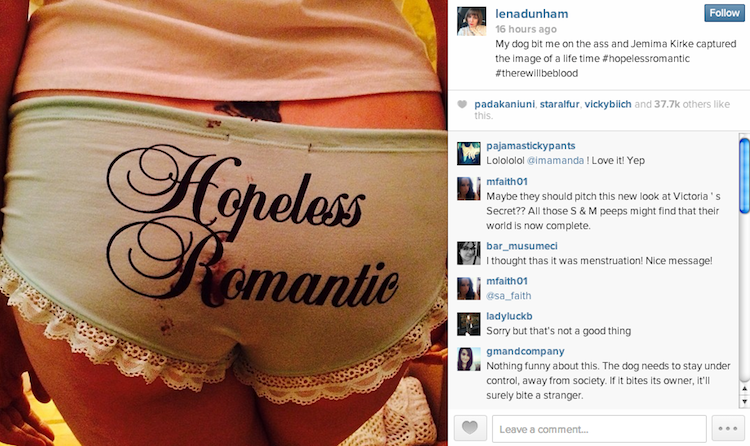 The most perfectly twee dog butt bite of all time. (via Instagram)
Last night, Lena Dunham pulled a Kim Kardashian and posted a photo of her ass to Instagram. Unlike tan, sultry Kim, however, Lena was wearing silly, frilly underwear and also, her butt was bleeding. Because that is what real women's asses look like, dammit!
For the few of you who haven't seen Dunham's butt before, it isn't always bleeding. The wound was apparently inflicted by Lena's pet dog Lamby. Dunham seems to have a good sense of humor about the incident—her caption was: "My dog bit me on the ass and Jemima Kirke captured the image of a life time #hopelessromantic #therewillbeblood"—but some people aren't laughing. 
Plenty of commenters call Dunham a "horrible dog owner" and say there's "nothing funny about this." Meanwhile, Gawker notes this isn't the first time her dog has attacked her and demands that Lamby be taken away.
Here's Lamby, for the record:
Could he still be upset about the season finale of Girls?
(by Shira Rachel Danan)