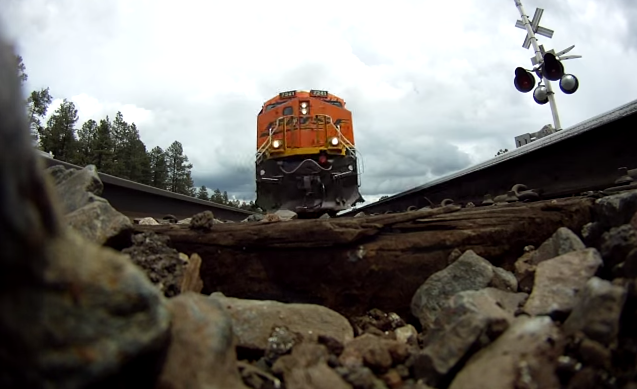 It's coming right at us!!!!
Of course you want to know what it would feel like to lie down on a train track and watch a train speed over top of us as the ground shakes, the rails shimmy and sunlight comes strobing in between the vehicle's massive steel wheels. But—I can't stress this enough—do not attempt to get first hand experience of this. That's a great way to also experience premature death.
If you simply must indulge your curiosity, do it via this video created when someone placed his GoPro in the path of a coming locomotive:
According to legend, when Auguste and Louis Lumière's 1895 short documentary film The Arrival of a Train at La Ciotat Station was first screened for audiences, inexperienced moviegoers were so overwhelmed by the image of a train racing toward them that many panicked and ran screaming to the back of the room. I always thought that was silly. But now I kinda get it.
This video sort of freaked me out. Obviously, I fully understand that it's merely the illusion of movement on my computer monitor—and I did only scream a little bit—but it was still a pretty intense experience. I'm now doubling down on my dedication to not ending up underneath any trains in real life.
(by Dennis DiClaudio)