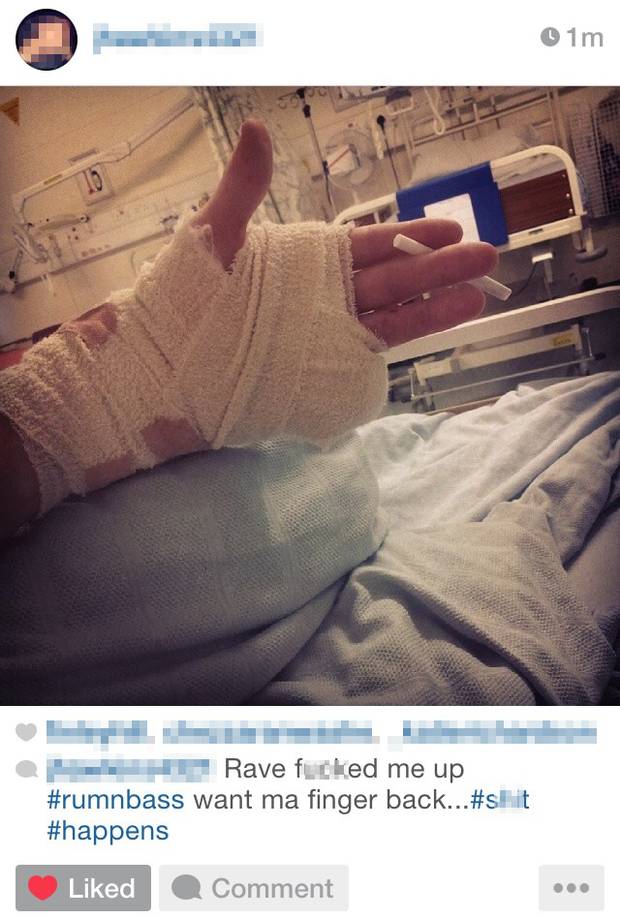 "Basically, it's just gone, innit."  (via Vice)
This past Saturday night, 16-year-old teen "Josh" accidentally ripped his pinky finger off at an overcrowded rave at an abandoned mail sorting facility, but kept on dancing because he "didn't want to be a sore thumb." Those were his words, I swear. 
Here's how it went down, in his words, as he tells it to Vice.
"Well, at about 1AM we were up in the house room, but I don't really like house so I was waiting for the drum 'n' bass to kick in. As soon as I heard it, me and my mate went down there. Five minutes in, the fire alarm starting [sic] going off and everyone was like, "Rip it off! Rip it off!" So I thought I'd give it a go. I was completely sober at the time. I jumped up, grabbed it and my little finger got caught in the case because it was all broken, and as I came to rip it back down, my little finger got ripped off completely."
Completely sober, huh? If you say so, but I've never been so high on beats that I didn't notice I was about to tear my own flesh to the bone. In any case, I'm sure no street drug can compare to the rush of chemicals your body pumps out when you self-amputate. 
Josh continues, "I looked at my hand and my little finger was gone – the bone was sticking out. It's the weirdest feeling; one second you're fine and your little finger is there, and the next second it's gone. It shoves reality up your backside. "
Vice magazine posted a graphic picture of the exposed bone that you can see when you run your mouse over it's pixelated image, you can find it here.  
What we have here is the story of a good rule-follower. Everyone was screaming "rip it off," and he did. They should have been more specific. 
I've never ripped off my own finger, but if I got to choose my own adventure, my next stop would be the hospital. That's what makes us different, I guess. 
"I was in so much pain and shock that the first thing that hit my head was the beat and the bass." Josh told Vice. "The bass was hard, so I just ripped off my top, wrapped it around my finger and tied it up as tight as I could and skanked it out for half an hour. My mentality was, 'I've only been here for an hour, I've paid £10 for this night, I've lost my little finger – am I seriously going to go? Nah, I'm going to skank until I can't skank any more."
Wow. Really tells you about the strength of the British pound, but then again, the rave's entrance fee was two digits, and his finger was only one.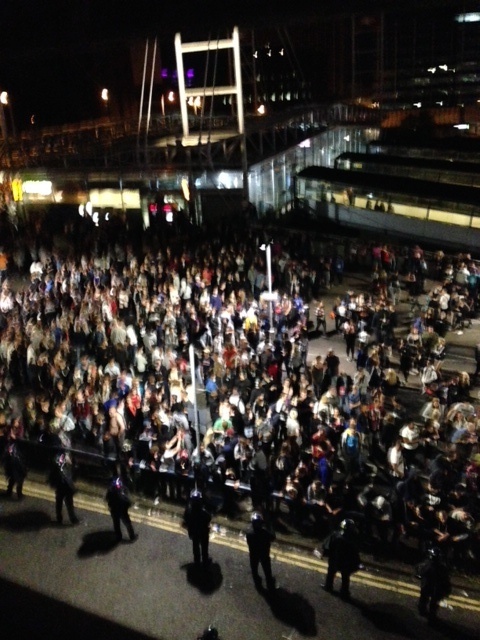 Can you spot the finger? (via Vice)
Half an hour of dancing went by before his friends persuaded him to seek the paramedics, who then had to convince Josh that he needed to go to the hospital. To prove their point, paramedics poured medical acid on the open wound. I'd think Josh would want some drugs by then, but no.
 "There are fit girls around you, the bass is hard, the music is popping. I didn't want to be the sore thumb sticking out – or the sore pinkie – so I was like, 'Fuck it, let's skank on and enjoy it.'" 
The paramedics convinced him to go to the hospital anyway.
And what about the finger? Josh was later told that "some stoners found it and were playing catch with it."
I guess that's what you do when you still have enough fingers to play catch with. 
(by Myka Fox)