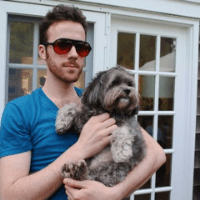 Filed by Miles Klee

|

Jan 07, 2017 @ 2:15pm
He's wearing his heart on his sleeve—or his hat, rather.
With his skewering of Donald Trump on Saturday Night Live—and promises to retire the impression if the president-elect finally releases his tax returns—Alec Baldwin has emerged as the most vital troll of the incoming administration. And with less than two weeks to go before Trump's inauguration (at which countless musician have refused to perform), he's definitely not letting up.
Just hours after the Office of the Director of National Intelligence released a report stating that Trump was wrong in denying Russia's efforts to undermine the U.S. presidential election, and that Vladimir Putin ordered exactly such an influence campaign, Baldwin posted an Instagram selfie in which he modeled a red hat bearing the familiar slogan "Make America Great Again"—in Russian.
Trump, meanwhile, embarked on a defensive tweetstorm about the hacking report, falsely claiming that the Republican National Committee was, unlike the DNC, never hacked because it had a stronger defense. (In reality, Russians hacked the RNC as well but simply decided to sit on the information in hopes of helping Trump's chances.) He also promised a better relationship with Russia.
Gross negligence by the Democratic National Committee allowed hacking to take place.The Republican National Committee had strong defense!

— Donald J. Trump (@realDonaldTrump) January 7, 2017
Having a good relationship with Russia is a good thing, not a bad thing. Only "stupid" people, or fools, would think that it is bad! We.....

— Donald J. Trump (@realDonaldTrump) January 7, 2017
have enough problems around the world without yet another one. When I am President, Russia will respect us far more than they do now and....

— Donald J. Trump (@realDonaldTrump) January 7, 2017
both countries will, perhaps, work together to solve some of the many great and pressing problems and issues of the WORLD!

— Donald J. Trump (@realDonaldTrump) January 7, 2017
Interestingly, this was the first time Trump himself—rather than his assistants—had tweeted since he mocked the low ratings for the new season of Celebrity Apprentice, now hosted by former California Gov. Arnold Schwarzenegger.
things trump cares enough about to tweet himself: tv ratings

things aides have to tweet about for him: son's birthday, tragic mass shooting pic.twitter.com/7fhrkpAfK6

— Ashley Feinberg (@ashleyfeinberg) January 7, 2017
And Trump couldn't even land that punch without Schwarzenegger decking him.
I wish you the best of luck and I hope you'll work for ALL of the American people as aggressively as you worked for your ratings.

— Arnold (@Schwarzenegger) January 6, 2017
It's almost as if no one told Trump that the president tends to get criticized a lot?