Turns out that the most important qualifier to Donald Trump's candidacy for President is his high testosterone levels, at least according to the audience of Dr. Oz.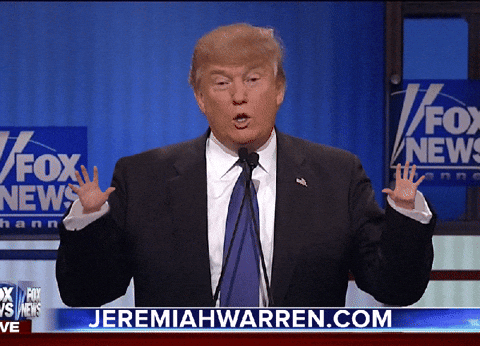 Dr. Oz, reading over Trump's medical history, said...
Your Testosterone is 441 – which is, actually… is good...
Followed by audience approval. This is fine—thanks to the patriarchy—but would they have applauded as much if Hillary Clinton had just as high levels of estrogen? Here's the best clip available of this moment right now, since Dr. Oz is keeping an extremely tight digital lid on this episode:
After he sufficiently made it known he's a man, he admitted that he could afford to lose a couple pounds.
But so what? Because when he looks in the mirror, he doesn't see this...
Instead he see's a 35-year-old stud, not unlike his golfing buddy, football star Tom Brady, about whom he said...
...when I'm with him [Tom Brady] I feel the same age as him. It's crazy.
Crazy is definitely a word we would use to describe that comparison. All this is his way of saying he's got stamina, and don't you forget it.
His campaign released a summary of his latest physical, which said in part...
We are pleased to disclose all of the test results, which show Mr. Trump is in excellent health and has the stamina to endure, uninterrupted, the rigors of a punishing and unprecedented presidential campaign.
We're glad Trump is feeling ruddy and healthy at 70. Yes, he would be the oldest president ever elected, but Trump's mother lived into her 80's and his father until his 90's, both with few medical problems. (With the exception of his father towards the end of his life, who "...developed, I think it was Alzheimer's," as Trump put it.) It should be noted that Hillary Clinton's dad also lived until his 80's, and her mom lived until her 90's. She would be the second-oldest if elected, after Reagan.
So why are we still talking about their medical histories? They both come from good genes even if they are getting up there. How about we shift to like, say, tax returns, or more transparency, or even (heaven forbid) economic policy proposals?