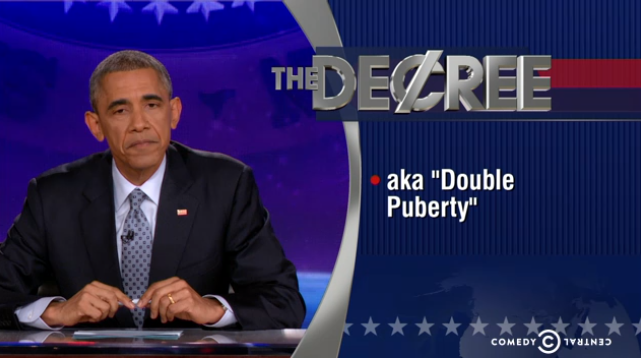 And he even broke out a subtle "Not Bad" face.
In what might unfortunately be remembered as the highlight of his second term, Barack Obama appeared on last night's D.C. episode of The Colbert Report. Before sitting down for an interview, the President popped out early to boot Colbert from his own desk and deliver the much-loved "The Word" segment, renamed "The Decree" to recognize it's executive branch status.
With a mix of light jabs at himself and his patented "Obamacare works" brags, the President proved once again that he's the most accomplished comedian to sit in the White House since Roosevelt (dude worked with props too much for my taste). Larry Wilmore has to be happy that his contract to take over the time slot is already nailed down, since a career in comedy is most likely in the cards for Obama come 2016, when his wife gets some distance from him and starts campaigning for 2020.
(by Bob Powers)