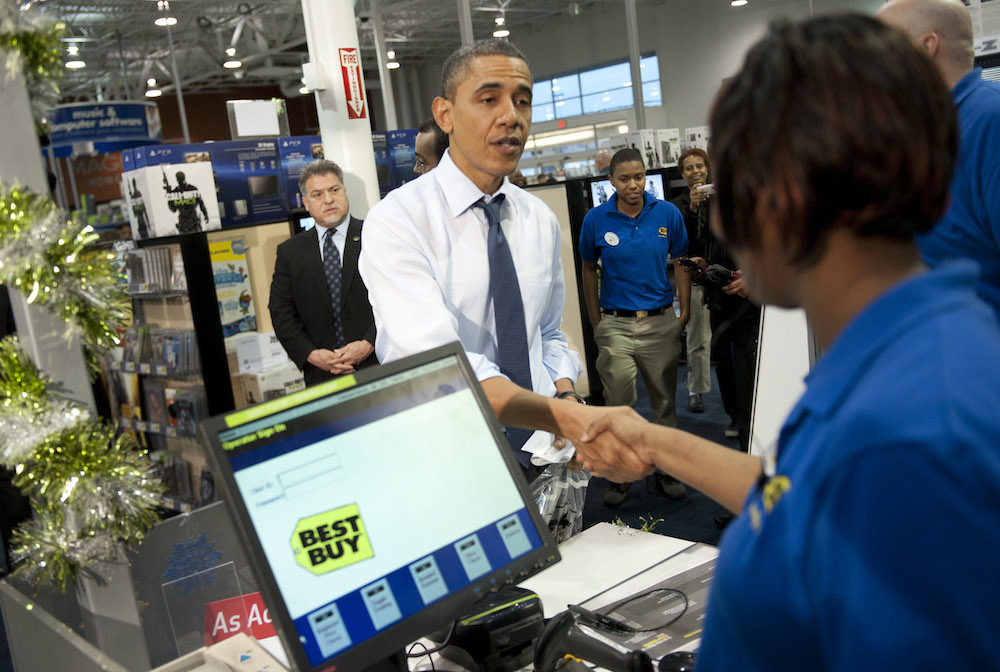 "I'll level with you: I need this PS4 so Malia stops playing on the drone machine."
(via Getty Images)
We already knew America was in decline, but did you know that our leader's credit cards are, as well? Barack Obama signed an executive order today protecting citizens from identity theft, and while announcing it at the Consumer Financial Protection Bureau (the special agency to protect people from extortionist credit card and bank practices), he regaled the audience with the story of how the most powerful man in the world was shut down by an even more powerful force: a snobby New York City restaurant. Most likely Estela, where the Obamas were spotted getting "fluke carpaccio, endive and walnut salad, cod croquettes, and some burrata." MMMmmmmm?
"I went to a restaurant up in New York when I was [visiting] the U.N. General Assembly, and my credit card was rejected," by, I'm sure, a very mortified waiter and a manager who was loving every moment of it. "It turned out I guess I don't use it enough... they thought there was some fraud going on. Fortunately," Obama said, "Michelle had hers." That shouldn't feel too unusual, though. Much like Bill & Hillary Clinton, Michelle was the primary income earner for the Obamas before he became a Senator.
At this point, President Obama was questioned, presumably by concerned citizens who wanted to know if we were all broke and the country was about to collapse: "I was trying to explain to the waitress, you know, I really think that I've been paying my bills." So, he explained to the Consumer Financial Protection Bureau crowd, "Even I'm affected by this." Uh huh.
In all likelihood, the card was declined because he never uses it and it went inactive. Exactly the problem most people have with credit cards, right? At least he's not former Fed Chairman Ben Bernanke, who apparently failed to qualify to refinance his mortgage.
(by Johnny McNulty)