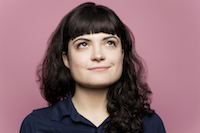 Filed by Jaime Lutz

|

Feb 23, 2016 @ 7:21pm
Everyone salute (or condemn) Redditor CarlosWeiner for bringing the world's attention to the fact that you can buy a Bernie Sanders ceramic pipe—and donate to Bernie's campaign at the same time! The pipe-maker, Stonedware, promises to donate a portion of the proceeds to the Vermont senator's campaign for the Democratic nomination for president. The pipe is for smoking tobacco only, of course. As one does out of porcelain pipes.
The gloriously-named Stonedware promises to donate 10 percent of the sales of these $60 pipes and $30 "chillums" to Sanders' campaign for president. And yes, that sign uses the hashtag "#BurnOneForBernie."